Advancements in technology over the last decade have made surfing the web an activity available on a wide range of devices, both at home, and on the go. Because of the variety in devices used, it is important that roofing companies design a website that presents well on all of them. Roofer responsive web design is critical to SEO. Google prioritizes user experience, so presenting a website that works for all users will help you climb the rankings in Google search results.
In layman's terms, responsive web design is the development of a website that re-formats based on the device it is being accessed on. You need to reach roofing customers on their desktop, smartphone, and tablet. Failing to reach any one of these device categories can cost you a percentage of potential customers. Worse, your website will not be reaching its maximum SEO potential for Google search results, costing you even more potential customers. Responsive web design is the only option for roofing company websites.
Benefits of Responsive Web Design for Roofing Companies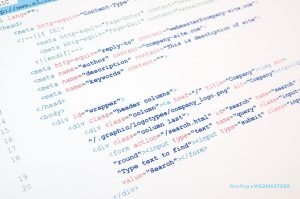 Responsive web design benefits roofing companies in multiple ways. First and foremost, it provides access to a wider range of potential customers by reaching across multiple platforms. Additionally, it helps you rank in Google searches because of your website's adaptability to different users. Neither of these factors can be undervalued. Both will help increase customers for your roofing company and contribute to your online reputation. Desktop-only websites are a thing of the past, responsive web design is here to stay.
Bounce rate is a problem for websites without responsive web design. If your current website has a high bounce rate, it could be the result of poor graphic design or the lack of responsive web design. Responsive web design will lower your bounce rate by adapting to the platform in which it is being accessed. Mobile users are more likely to stick around on a website they can navigate. Desktop-only designed websites are incredibly difficult to navigate on mobile devices. Users will move on to the next best roofing company search result and decide to do business with them instead.
Responsive Web Design for Roofing Contractors
The goal of every roofing contractor website is to generate more customers. Following SEO principles is a great way to get customers to visit your website. Once traffic starts to move towards your website, you have to make sales conversions. The best way to do this is to give your customers a reason to stick around for a while. Roofer responsive web design arms your website with wide ranging accessibility. Anyone checking for roofing companies on their mobile device will want a presentable website.
A call to action on your website pages helps you secure sales. For users on smartphones, they can literally click your phone number and place a call. Responsive web design is so critical because it reaches potential customers immediately. They won't have to wait to get home to make a call for roofing services. They can do it right from their phone. For roofer responsive web design services, call us today at (800) 353-5758.