Google Plus is not on the same level as Facebook and Twitter. Those social networking platforms have an abundance of activity at all times, in all locations. Google Plus has struggled to establish itself as a premier social networking service. Despite its shortcomings, Google Plus is still a valuable commodity to roofing companies. While roofer Google Plus may not be a premier social media platform, it is still run by the top search engine in the world.
Because roofing companies rely on local customer reach, any business association with Google is important. When potential customers search your roofing company on Google, they will want to see a professional Google Plus page. Anything short of that will cost your company a chance to engage customers. A strong internet presence is not narrow but rather wide. Your roofing company must establish itself across many platforms. Like Twitter, Google Plus offers verification for local businesses. A blue check next to your roofing company name and logo will build confidence in your roofing company.
Do Roofing Companies Need Google Plus?
Roofing companies absolutely need Google Plus. If for no other reason than to display your contact info and logo to potential customers. At the very least, Google Plus has to be treated as an online citation. In the same way you wouldn't want a blank logo or inaccurate address on your Yelp listing, you don't want your Google Plus page to look unprofessional. It is important that you brand your Google Plus page with your company logo, contact information, and biography.
While online citation management is critical, Google Plus also has other unique avenues to engage with customers. Communities and Collections are two features that roofing companies can consider when utilizing Google Plus. Communities give roofing companies the chance to gain the attention of people interested in roofing services and repair. Searching for communities related to roofing services will tap into a new demographic. Collections on the other hand allow you to establish your company as one of the best in a specific location. These unique features can only help build your online reputation. Roofers that need new avenues for customer engagement should consider Google Plus.
Google Plus for Roofing Contractors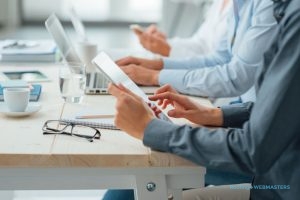 At Roofing Webmasters, we understand that roofing contractors have a very busy schedule. Repairing and installing roofs leaves very little time and energy to put into social media management for websites like Google Plus. The good news is that we provide social media management for roofing contractors. While you might be questioning how much you actually need social media, when you see the results you can gain from it, you will understand its importance.
At Roofing Webmasters, we help build your customer base by engaging your company with potential customers through social media. Establish yourself as a well rounded roofing company that connects with its customers. While other roofing companies are leaving their social media pages blank and failing to engage with customers, you will be creating an online presence that has people talking. For roofer Google Plus management, give us a call at (800) 353-5758