YouTube is considered to be a social media channel but stands on its own as the premier video platform on the internet. Roofing companies are able to take advantage of this content marketing source and help increase roofing leads and website conversion rates by producing helpful, informative content in a new and fresh format that can be linked to your site. Currently, 1.9 Billion users visit YouTube every month. The influence this media has over people, particularity from 18-49, is astounding. YouTube marketing for roofers can:
Branded Content: Overlays and watermarks help brand your videos
Content Creation: Most smartphones can record high-quality video
Profile Optimization: Roofers with Gmail and Google My Business accounts can easily create a YouTube channel
Video Advertising: YouTube offers comprehensive advertising opportunities
YouTube channels are customizable, and allow roofing contractors to upload a logo, input an "about-us" section and enter keyword tags. YouTube, like other social platforms, is a representation of your roofing company, and should offer informative, in-depth content. In the current roofing marketing landscape, there is no more effective way to reach consumers than through video content. We live in an era of short attention spans, and mobile consumption. Video strikes the perfect balance at the perfect time. Call (800) 353-5758 for YouTube management for roofers.
Creating Roofer YouTube Content
YouTube marketing for roofers can range from promotional videos to topical content. Quality is a major factor in the success and reach of video content, both in video and audio output. While most modern smartphones record high-quality video, the audio quality is still subpar, because of the distance that generally exists between the recorder and the subject. A solution is to invest in a condenser microphone which can be attached to the video subject and create crisp audio to combine with video content.  To review, YouTube content should consider:
Audio Quality: Investing in a condenser mic is recommended
Branding: Overlays and watermarks influence video branding
Distribution. Creating and optimizing a channel helps market your video
Video Quality: Most modern smartphones record quality video
YouTube is now owned and operated by Google, making its influence on search rankings more significant than ever before. In fact, Google now tries to deliver multiple types of content in search results including video content as well as images. This can tempt roofers to target only these channels. However, a comprehensive content selection will render the best results on Google and other search platforms.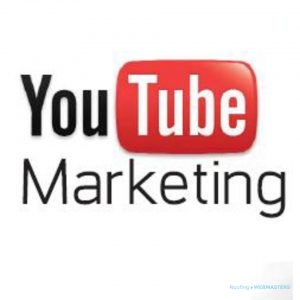 When utilizing videos for your website and social channels, ensure that you are addressing interesting content that viewers want to know. "How to" videos, while a simple video to create, often leads to low conversion rates since they offer DIY guidance instead of service encouragement. Instead, roofing videos that talk about the signs of storm damage or how to know if your roof is leaking inside your home can offer helpful and needed information while providing the opportunity for professional service. The marketing experts at Roofing Webmasters can not just help you identify relevant and interesting topics, but we can also provide guidance and tips to ensure your video is high-quality and well-received.
Effective SEO for Your Roofing Videos
What should YouTube marketing for roofers' skills be about? It is probably the number one YouTube related question we receive from contractors. We've noted that videos can be promotional or topical, but that leaves room for ambiguity. Contractors want to know, what specifically their videos should cover. Promotional videos can be constructed like a commercial or infomercial for your services, while a topical video might deal with more specific issues like roof storm damage. In either case, you'll want to include a call to action in the post-production of your video, a task Roofing Webmasters is happy to assist with.
Introductory videos are another idea for subject matter. These videos are especially valuable because they can be embedded on the homepage of your website to welcome prospective customers to your services, and illustrate how they can be helped by them. Introductions often set the foundation of a future relationship, so making a strong first impression, through a popular form of media, holds great potential. Call (800) 353-5758 to learn more about YouTube marketing for roofers.