Instagram is the fastest growing social networking platform in the U.S. This social platform offers immediate attention to digital media such as images and videos. In today's marketing world, these types of media encourage user interaction, follows, and higher conversion rates. In fact, at least 38 percent of Instagram users say they follow at least one business, and 42 percent of those say they have found at least one product they have purchased on the platform.
Roofing companies can take advantage by expanding their social media marketing to include Instagram to deliver videos and photos of projects, company life, and more. Although the nature of this platform's marketing campaign differs from Facebook or YouTube, it can be just as effective, if not more so. Some of the qualities that make Instagram a unique platform are:
Completely Mobile Use: Instagram is a completely mobile app, allowing only viewing capabilities on other devices.
Non-Linked Posts: Instagram, unlike Facebook, Twitter, and other platforms, doesn't allow clickable links in your posts.
Completely Visual: The Instagram network is completely comprised of visual posts and content.
Unlike Facebook, which started as a desktop-first platform, Instagram has always been mobile-centric. This speaks to its increase in popularity since it's closely paralleled the rise in mobile usage. While it's demographic traditionally leaned towards younger users, it is growing among 30-64 year old's, which includes a substantial part of the roofing market. Call (800) 353-5758 for Instagram marketing for roofers.
Branding Your Instagram Profile
One way in which Instagram is similar to other social platforms is its facilitation of profile branding. Roofing companies can prove their authenticity by linking to their primary website and their Twitter and Facebook profiles. Although verification cannot be requested, publishing company photos, videos, and stories let users know that you are not an impostor. Roofing Webmasters can help you with every aspect of your social media marketing. Great ways to brand your profile include:
Branded Content: The publishing of company photos and videos
Logo Placement: The uploading of your company logo
Social Profiles: Inclusion of Facebook and Twitter profile links
Website Link: Inclusion of your website URL
A web-ready company logo is crucial to social branding. Instagram, like other platforms, has an area on each profile to display an avatar, which in the case of roofing companies, should be their company logo. Roofing Webmasters offers logo design services to roofers who do not yet have a digital identity, or to companies hoping to improve upon their current design. We also optimize logo's for web use, so that they can be effectively uploaded on social platforms.
Content For Instagram
Unlike Facebook and Twitter which offer the option to embed links within posts, Instagram disallows such posts. Because of this, the typical content like blogs, or service pages, cannot be part of your IG content strategy. Instead, you must focus on visual content like company photos and videos. Take advantage of the Stories feature which allows you to take users on a journey of your daily activity. Perhaps this can be arrival to your job, the maintenance itself, and the departure. Keeping people engaged with visual content is what makes IG so impactful.

Instagram PPC Options
Instagram also offers pay-per-click advertising options that are affordable and trackable. Although not as advanced as Facebook or YouTube, this social platform's PPC advertising campaigns are completely customizable and offer multiple ways to focus your audience including both psycho and demographics options. These efforts can be used to deliver content and raise business awareness, as well as to showcase specific skills and specializations to get your roofing company more business. The Roofing Webmasters can help you identify the ideal audience and manage your PPC campaign for effective, continuous results. Call us at (800) 353-5758 to learn more.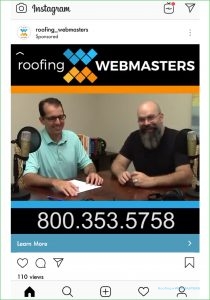 Roofing Webmasters Social Professionals
Most modern smartphones record quality pictures and video. For this reason, it's easier than ever before to generate company content for a visual platform. With Facebook recently changing its algorithm to prioritize non-branded content, reaching social media users organically becomes a whole lot harder. The good news is that this social paltform provides an opportunity to make up for some of the traffic lost through Facebook. Call (800) 353-5758 to get started with Instagram marketing with Roofing Webmasters today!