In today's world of modern technology, it has become easier than ever for a person to find information on products, services, or just about any other subject you can think of. Because so much information is available at the touch of a button, your roofing website must deliver the correct information and formatting for Google to index it correctly and deliver it to SERPs. Structured data markup is a technique that uses coded listing and highlighting features to help Google index your information correctly.
When accurate markup is used, your roofing information and details may appear along with your website address and contact information in a featured snippet at the top of the SERP page.
What is Structured Data Markup?
Perception often determines a consumer's decision-making. To effectively appeal to your online users, enhance your SERP presentation with structured data markup. Roofing Webmasters offers structured data markup, which can mean a "richer" result on Google. Rich results are defined by visual appeal and elements that grab the user's attention at first glance.
You may have noticed certain search results appear more visually pleasing than others. That's because aspects of their data have been marked up. You can mark up these elements for a better chance at a featured snippet
Contact Information: A clickable link for your business name, address, and phone number
Customer Reviews: An aggregate star rating of reviews from one or multiple platforms
Service Pages: Individual pages that possess structured data markup in the content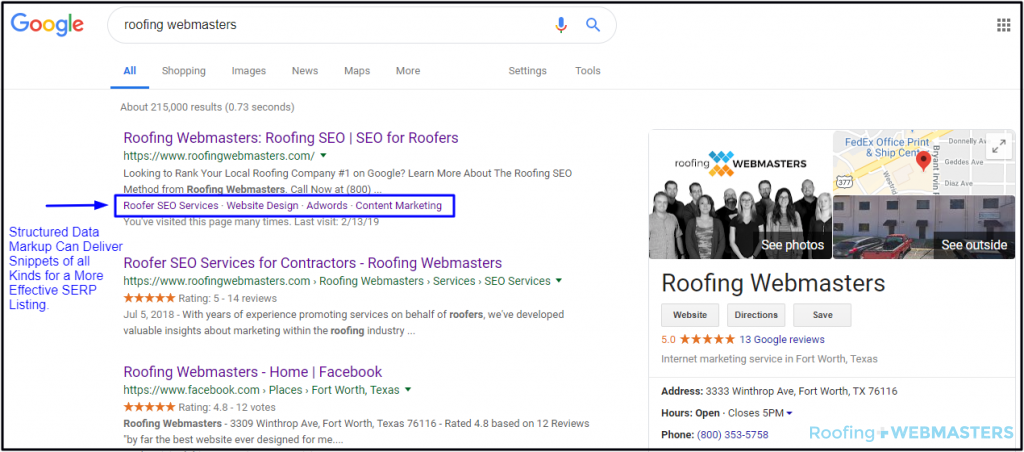 Structured Data Markup Offers Additional Enhancements for More Effective SERP Listings.
Roofing Webmasters strives to keep pace with Google and other SERPs to keep you in front of your roofing competitors. For this reason, we're always looking for new ethical ways of improving your online presence. While structured data markup can be misused when applied excessively and for misleading data, when properly implemented, it can have a favorable effect on your roofing company's internet marketing campaign.
Search Enhancements to Boost Your Roofing Website
Google has introduced several new ways to enhance search results. Not all of them are a direct result of structured data markup, but some of them are. Rich snippets, for example, which are extensions of your Google SERP result, occur when websites implement data markup.
Other enhancements, like featured snippets, require a variety of resources and are subject to the approval of Google. Since they are pragmatically selected by Google, there is no way to create a featured snippet. However, you can structure your data for a better chance of featured snippet appearances. Examples of search enhancements include:
Correctly Coded Lists: Structured lists offer Google a great opportunity for a featured snippet.
Rich Media: These are extensions to search results, like an aggregate star rating or a video that Google can apply to your SERP snippet.
Sitelinks: These links are expanded and include content pages instead of only Home and "About Us" page links.
The smallest details often make the biggest impact. This is particularly true in the roofing industry, which is highly competitive. Roofers know that there are several other contractors in their service radius, and the top Google spots are prime digital real estate. Whoever can secure those rankings will put themselves in a great position. With structured data markup on your roofing website, your SERP listing has an edge against the competition even when it's not first in results.
Why Roofing Webmasters?
Marketing companies are a dime a dozen. The internet is filled with salesmen, some ethical, others not, trying to profit from SEO as a service. What makes Roofing Webmasters different is not a singular quality. While our focus on the roofing industry certainly gives us a better perspective on your market than other companies would possess, what really makes us outstanding is our performance. We drive relevant traffic to roofing websites and do so efficiently and more affordably.
Markup services are one of many offered by Roofing Webmasters. With a diversely skilled team, we provide SEO, PPC advertising, social media ad management, and website design. Because the Roofing Webmasters team covers the full spectrum of digital marketing, roofers can focus on their day-to-day business operations rather than worrying about their online marketing efforts.
In 2023, your online presence is crucial to your roofing business's success. When you want an online presence that makes a difference and generates roofing leads for your company, speak with the Roofing Webmasters experts first. We provide the technical and general techniques that get your roofing site noticed more often and effectively.