Should Roofing Contractors Use SEO Consultants?
Yes. In today's online marketing landscape, having a well optimized website is priority number one for roofing contractors. SEO consultants can help you develop your website and optimize it for Google search engine results. Some of the duties of an SEO consultant include:
Keyword Research: Generating a list of keywords that have both search volume and opportunity
Market Research: Determining competitors in the local market and their strengths and weaknesses
On Page SEO: Optimizing website content for Google search engine results pages (SERPs)
Off Site SEO: Optimizing business listings, review profiles, social media accounts, etc.
Each duty is performed with the goal of increasing rankings on search results. That is ultimately how companies determine the value of their SEO consultant. At Roofing Webmasters, our SEO consulting services are all-inclusive, meaning we don't just inform you about your SEO needs but we address them as well. Call (800) 353-5758 for roofer SEO consulting services.
Qualities of a Good SEO Consultant
SEO consultants should have similar qualities to anyone you would entrust with important business assets. Your website is, in fact, a company asset. You need it to generate leads and help you sustain customer acquisition moving forward. Here are some characteristics of good search engine consultants:
Affordability: A fair priced service that has a great chance for ROI
Experience: A proven resume with documented results
Flexibility: Someone who will adjust to market trends, and your individual business needs
Specificity: Someone who has worked with service contractors before, particularly roofers
Checking off each quality as you go through the hiring process will get you a solid list of candidates. From there you can make your decision based on current needs, comfortability, etc. In the case of Roofing Webmasters, each of the four boxes are checked, and comfortability is exactly what we provide. We work with roofing contractors all the time, and know exactly what it takes to to properly market them.
Setting SEO Goals For Roofing Companies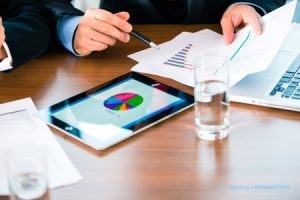 Any SEO consultant you hire should be fully receptive to your goals. In fact, their first priority should be to establish your SEO goals. Roofing companies should be mindful of Google's volatility when it comes to search rankings. Algorithms and ranking value's change quite often, so setting flexible goals makes more sense in this case.
An example of a SEO goal would be; increase website conversion rates by the end of one month. This goal can be measured, has a fixed time period, and is plausible based on market research. Roofing Webmasters can help you build your list of SEO goals, and execute them in the most efficient way possible. Call (800) 353-5758 for roofer SEO consulting services.