Organic SEO is the process of achieving organic search ranking on Google SERPs. Unlike paid advertising or social media boosts, SEO for roofers does not require a fixed payment. While marketing companies will charge for SEO services the potential ROI is far greater than it would be with a paid advertising campaign. Organic SEO is considered the gold standard of digital marketing for roofers but is also one of the most challenging to master. Websites that rank #1 on organic results have often invested years of resources into securing that spot and it won't be easily overtaken.
Elements of organic SEO include:
Content Marketing: The publication and optimization of web content
Keyword Placement: The placement of local and industry keywords within web content
NAP Citations: The claiming and optimization of online business directories
Link Building: The facilitation of inbound links, as well as the inclusion of internal and outbound links within content
When people hear the term organic they often think of natural foods. The concept is similar when applied to SEO. The rankings on Google SERPs that are not paid for occur naturally. These ranking positions are earned rather than purchased. Google's algorithm determines which pages rank highest and while the exact criteria are not public many 3rd party tools as well as hints from Google themselves give us a pretty good blueprint to success. That doesn't mean it won't be challenging but it is attainable. Roofing Webmasters has over a hundred clients who enjoy the success of organic clicks.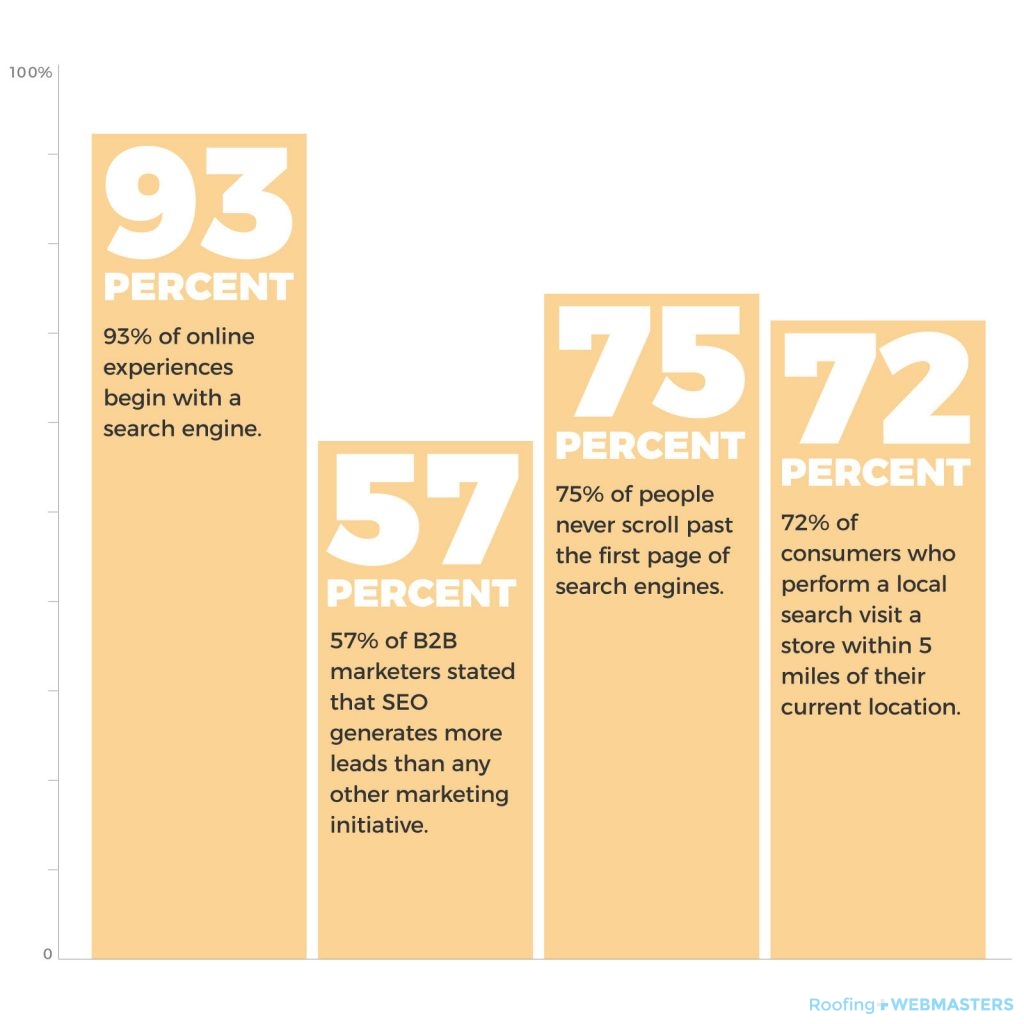 Benefits of Organic SEO
Organic SEO is so valuable because it is both affordable and sustainable. Unlike paid ads that cost money to launch and to sustain, organic optimization is technically free. In other words, any website can achieve an organic ranking position without paying a dime. While it is best for businesses to invest some financial resources into a professional SEO campaign the results should be long-lasting. Hiring the right SEO company is critical because the work they do will have lasting repercussions that can shape the future of your business. Benefits of organic optimization include:
Affordability: Incurs no fixed cost
Collaboration: Works well with other forms of marketing
Simplicity: Easy to perform
Sustainability: Works long-term
Some roofers reject the idea of organic SEO as the top priority for marketing online. They feel that PPC and social media ads work quicker and therefore are the best ROI. This has been proven incorrect based on our own research as well as independent studies. It is true that PPC works faster and can produce ROI quickly but over a period of 3 months or longer that ROI begins to decrease while websites with organic positions continue to rake in leads without investing anything close to your number. Best of all, organic results can stick for years and decades and create a 24/7 lead generator.
Organic SEO Services for Roofing Contractors
Roofing Webmasters is a full digital marketing agency meaning we offer everything from PPC management to Facebook Ads management. With that said, we strongly believe that organic SEO is the best long term strategy for roofers. You can reap the rewards of top Google ranking for years and decades. Our services include content writing, website design, and of course every type of search engine optimization. Our hundreds of roofing clients are able to enjoy the long term sustainability that comes with organic clicks.

Investing in organic SEO doesn't prevent other forms of marketing from being an option. PPC works well as a supplementary influence on organic clicks. As you may know, organic SEO takes time to work for roofers. Brand-new roofing websites will have to wait 6 months to rank for some of the most competitive keywords in their service area. Investing in PPC ads in the short term can help balance your budget and bring in leads while you wait on SEO. Roofing Webmasters handles all forms of digital marketing.
Call (800) 353-5758 for Organic Search Optimization