At the Roofing Webmasters, we carefully research the traits that separate top-performing roofing contractors from the rest of the industry. As more and more professionals shift their focus online to meet the rising volume of potential customers, it's clear that roofers must understand the essentials of online search. That's why we've provided this handy guide to get you started on your journey. Learn how Google search works and how your business can start getting noticed online. 
Why Google Search?
Before we dive into the underlying principles of Google Search and optimizing your website, we need to answer this question. The explanation is incredibly simple: Google owns over 92% of the search industry's market share. Every single other search engine combined (including Bing and Yahoo) don't come close to match the volume of activity that Google supports every single day.
The overwhelming majority of your potential clients rely on Google to find their roofing services.
If that's not enough incentive, consider the downward trend of traditional media advertising. More and more homeowners and businesses rely on Google Search. The most successful contractors have already mastered roofing SEO (search engine optimization) to dominate their local listings. Thankfully, there's still plenty of opportunities for newcomers to catch up, especially with the help of industry experts like the Roofing Webmasters!
Grasping the Basic Search Cycle
Just like roofing comes in a familiar pattern of planning, sourcing, construction, and maintenance, Google Search comes with its basic cycle. Learn this rhythm, and you'll be well on your way towards understanding the Google Search essentials. We'll adapt the process specifically for roofing SEO.
Step #1: Roofing contractors create websites and fill them with content.
Step #2: Google maps the basic structure & content of each website, indexing the information.
Step #3: A person submits a query in the Google Search bar, then the search engine pulls all related listings from its index and ranks them by highest to lowest relevance.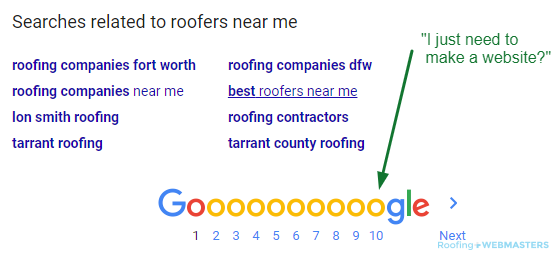 Content creation, site assessment, then information retrieval. That's the basic Google Search cycle. At Roofing Webmasters, we've encountered countless businesses who never think past the first stage. Quality SEO for roofers addresses every step of the search cycle to ensure success. That's why our team custom-builds websites for easy Google indexing and keyword optimization.
Your Website / Google Relationship
Now that we've established why roofing contractors need Google and how the search cycle works let's break down the relationship between your company and the search engine. We'll start with your company website, the foundation of search engine marketing (SEM). Almost all online marketing activities feed into your website, your most crucial asset for lead generation. 
As your company or your web developer crafts a brand new website, keep in mind the later stages of the search cycle. Keep the site structure simple, allowing Google to explore your website without accidentally missing key pages altogether. Make sure your content is highly relevant to future customer searches through keyword optimization. These are general guidelines that our team digs deeper into through other pages.
Key Points of Interaction With Google Search
Graphic design heavily impacts user experience (UX) when people visit your site. Content quality affects both UX and SEO for roofers; superb writing and visuals naturally lead to higher engagement and rankings. Your business listings enhance the quality of data available on search engine results pages. Finally, your off-site activities provide indicators of how much people should trust your company website.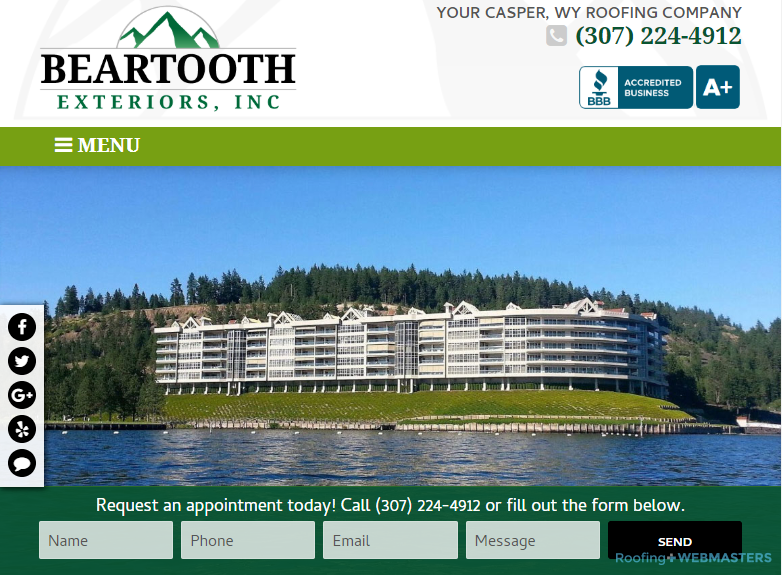 Critical Resources to Aid Google Search
When it comes to succeeding in SEO for roofers, contractors need all the help they can get! Thankfully, Google offers a vast spectrum of services and tools to enhance your roofing company's search visibility. You need to know where to invest your effort. The services provided in the list below allow you to analyze your site traffic, augment your search listings, and improve your keyword strategies. Except for Google Ads, all of these tools are refreshingly free.
Tools to Enhance Google Search Results
Google My Business: Using your company's physical address and contact information provides better listing quality in local search results.
Google Maps: Utilizes geographical data from satellite imaging to map communities.
Google Analytics: A convenient tool for examining site performance and visitor behavior.
Google Search Console: A webmasters tool that monitors traffic, identifies site errors, and examines site visibility.
Google Ads: Advertising platform for developing targeted, customizable ad campaigns.
Google Search: The dominant online tool for search.
Google My Business and Maps provides essential location data on your company headquarters. Even if you run an out-of-home business, having a physical address enhances your local search results. If you want to show up in local pack listings, one of the most effective ways to rank higher in search, start by filling out your free Google My Business listing (entirely).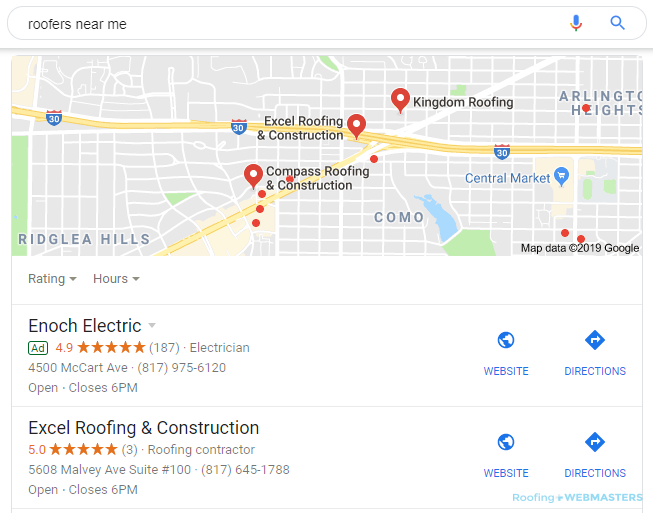 Analytics and Search Console both offer incredible insights into the performance of your website. Our Roofing Webmasters take advantage of the essential reporting tools to identify opportunities and weaknesses in site traffic. Reporting allows us to provide front-page rankings for our clients continually.
Of course, Google Ads empowers many roofing contractors to bypass organic search competition and get noticed for traffic-driving keywords. Many businesses report a double return on their ad spend investment. If your company hasn't investigated Google Ads before, it's certainly worth giving it a try.
Partner With the Experts
At the Roofing Webmasters, we support countless contractors throughout the country. Our clients dominate local searches in their communities, earning more traffic and higher quality leads. If your team desires more consistent growth and more robust performance online, talk with one of our roofing SEO specialists! We'll be happy to answer any questions you may have.