Return On Investment (ROI) is the single most indicative metric of marketing success. To directly boost ROI, roofers must increase conversion probability while reducing guesswork. One of the best marketing ventures for roofers is hail storm marketing. Areas near or within your service location, recently impacted by a severe hail storm, will invariably produce a spike in roofing demand. To capture these fresh leads quickly, you must incorporate the following:
Ad Retargeting: Target online ads to users after they navigate away from your site
Geo-Targeting: Allocate resources only to locations affected by hail
PPC Campaigns: Strike while the iron is hot with timely PPC campaigns
There's no way you can possibly accomplish all of these goals on your own, but with the help of Roofing Webmasters, you certainly can. We offer various hail storm marketing techniques, including hail storm PPC services. Because SEO is a long-term strategy, it doesn't necessarily apply to opportunities presented by sudden hail storms. Though it is a good idea to have a website page optimized for roof hail damage, that page alone won't capture the freshest leads.
Call (800) 353-5758 for roofer hail storm marketing.
Why Geo-Targeting Works For Hail Storms
We explained why ROI is the single greatest indicator of marketing success. To produce the greatest ROI, your resource allocation must be as specific as possible. Geo-targeting allows roofing companies to spend advertising dollars only on specific locations. This is crucial because it prevents wasted ad spending on users with a low probability of conversion. Instead, geo-targeting can provide the following benefits:
Measurable Results: Utilize AdWords and Analytics generate detailed reports about specific locations
ROI Maximization: Produce the greatest ROI possible by targeting areas of great demand
Waste Prevention: Reduce wasted dollars by avoiding needless expenses
The demand for roofers after a hail storm increases exponentially. But the window of opportunity is only open for a short time. Homeowners want repairs quickly, and are going to make a decision about their roofing contractor in the days or weeks following the storm. After a month has passed, your opportunity has decreased significantly. With Roofing Webmasters PPC management, and geo-targeting, you can strike while the iron is hot.
Can SEO Work For Hail Storm Marketing?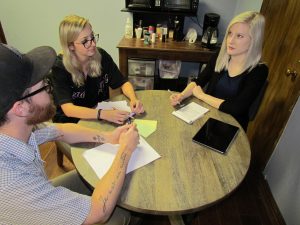 Yes and no. Having a well optimized website is always optimal practice. If for no other reason than to present an ideal landing page from your targeted ads. As far as generating organic traffic from a hail storm demand, that is unlikely. We previously mentioned that you should have a website page dedicated to hail damage roof repair, but that alone will not be enough to capture most leads. While it may get a few of them, PPC and geo-targeting will get the majority.
Are you a contractor looking to grow your roofing business in 2018? What better way to put yourself on the map than with hail storm marketing from Roofing Webmasters? Targeting locations recently affected by hail storms through paid advertising, can get you leads quickly, and presents a golden opportunity to make a positive impression on a community. From there your brand will begin to grow through more traditional means. Call (800) 353-5758 for roofer hail storm marketing services.