In the age of information, data is more accessible than ever before. This data can offer great metrics, but can also lead to wasted time over unimportant details. A good digital marketing strategy delivers the correct data which allows you to hone roofing marketing efforts to present the best results and highest ROI for your business. The Roofing Webmasters team offers comprehensive data reports that not only deliver useful, accurate information but also provide you with the details you need to make your roofing marketing efforts more effective than ever.
Properly measuring and analyzing your roofing company's online advertising performance is critical to its success. It is easy to get overwhelmed by an excess of statistics — so understanding what to measure and how to analyze it prevents information overload. Roofing Webmasters offers marketing reports to keep clients informed about the progress of their online marketing campaign. Our digital marketing reports are all-inclusive and deliver details such as:
Attribution: The source of your traffic, leads, and conversions
Funnel: Defined points in the process from visitor to lead
Progress: Increases or decreases over a period of time
Revenue: Monetary earnings within a defined period
Good online analytics reporting requires not only proper measurement but an accurate assessment of the resulting data. The Roofing Webmasters professionals are experts in the roofing marketing industry and have been generating analytical reports for years. We believe customers who are informed make better decisions and are happier overall with their investment. Since we offer both month-to-month (MTM) plans and pay per lead (PPL) plans, contractors have their choice in payment models. To discuss the advantages of receiving digital marketing reports for your roofing business, give us a call at (800) 353-5758.
Reporting Tools For Roofers
Have you ever wondered how online consumer behavior is measured? In the modern digital landscape, various tools exist to track and measure the online behavior your site's visitors and even provide insights to their journey to and away from your roofing website. Roofing Webmasters utilizes several of these tools so that we can set up revealing measurement formulas, and generate insightful reports that companies can understand and react to. Some of the best reporting tools for roofers include:
Both Google tools are free to use, making them especially useful for DIY marketers. With that said, knowing how to set up, track, and analyze information on Google Analytics is not an easy task. That's why the Roofing Webmasters team creates custom reports that include Google Analytics metrics to give you a complete overview of your company's online success. Remember, data is only valuable if it can be analyzed, interpreted, and translated into tangible action. When you need a company that can handle every aspect of marketing reports, choose Roofing Webmasters.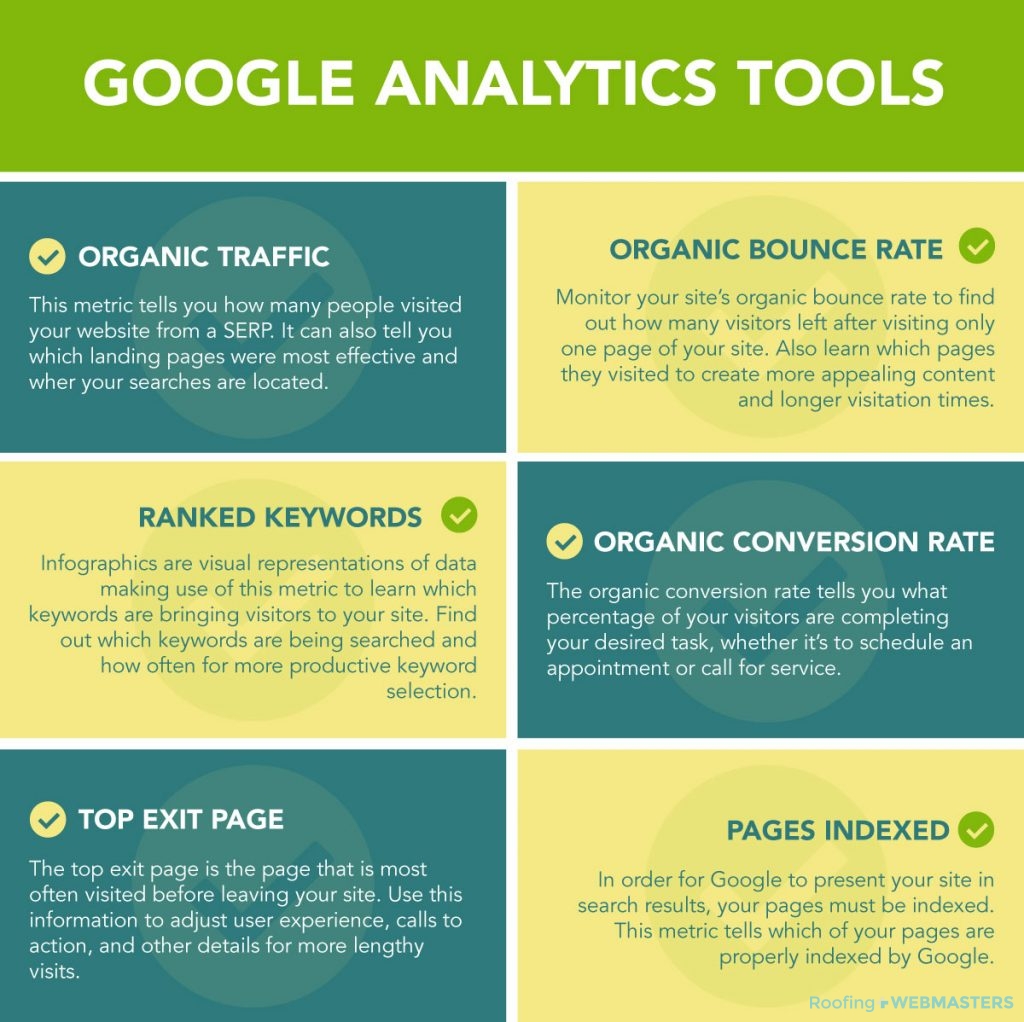 Source Attribution For Roofers
Where is your traffic coming from? Where are your leads coming from? Which channels are producing traffic with the highest conversion rates? These questions are on the mind of the average roofing contractor, and they are questions we can answer with digital marketing reports. Source attribution is one of the most critical components of reporting, as it illustrates where leads and traffic are coming from and instructs us on where to allocate our resources. Say, for example, your company is getting most of its leads from PPC ads — you may want to invest more in PPC management and less in social media or SEO.
Attribution can be as general or specific as you'd like. For example, we can produce statistics for "social" traffic, and/or we can produce individual metrics for each social platform like Facebook, Instagram, Twitter, etc. The same is true of website traffic. We are able to gauge which visitors are arriving at your site through organic search, and which are finding it through PPC ads, social media ads, or other referral sources. All of this information is useful to roofing companies and it can help improve marketing efficiency over time. Call (800) 353-5758 to learn more about marketing reports.