While Yelp's stock may have dropped since its peak, it still offers considerable value as a popular 2023 business directory for roofing companies. It is not on the same level as Google Business Profile or Facebook, but Yelp is still a highly regarded review platform. Yelp continues to help businesses thrive through its reputation for (sometimes brutally) honest consumer feedback.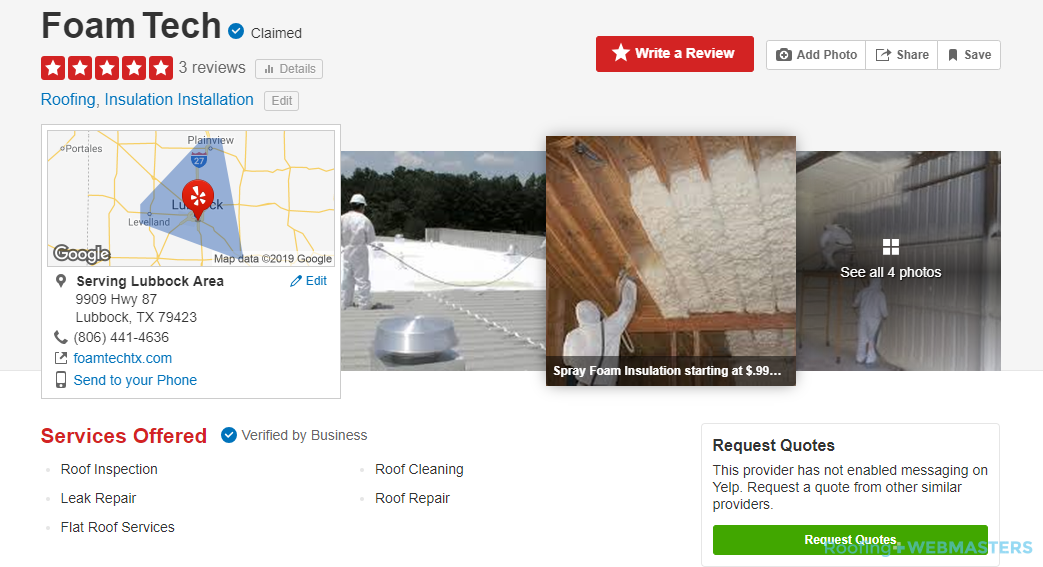 In many ways, Yelp paved the way for the platforms now surpassing it. It will always have name recognition, but it should no longer be the first priority for roofing contractors.
Mastering Yelp for Roofers
Yelp was once the consensus resource for consumers when searching for a roofer or business of any kind. So much so that Yelp was often referred to as the "review site." In 2023, target customers are more tech-savvy than ever before.
Roofing companies must account for this evolution of thought and adjust their marketing strategy accordingly. The good news is that business citations can be edited in groups using tools like Whitespark or Yext.
Listing Claim: Gaining control of your business listing on Yelp so that we can market on your behalf
Profile Optimization: Completion and organization of your Yelp profile
Reviews Management: Generation of and response to reviews
Website Integration: Linking to review profiles via website footer
Many services that market profile optimization use black hat SEO tactics, including the generation of fake reviews. Yelp has seriously cracked down on such behavior, and your company will suffer if it continues to engage in it.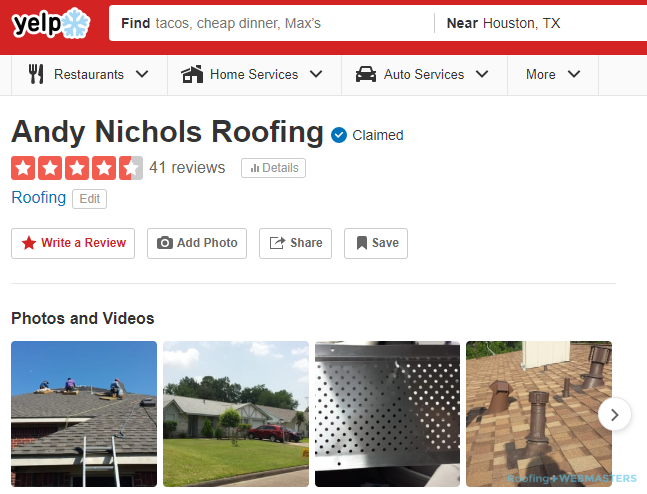 At Roofing Webmasters, we never participate in manipulative tactics and build reviews only through legitimate means. Our DataPins reviews widget, which is installed on each client's website, pulls aggregate reviews from external platforms like Yelp and helps customers leave more reviews.
Yelp Citations for Roofing Companies
Aside from being a review platform, Yelp serves as a valuable citation source for roofing companies. It is considered in the top tier of business listing directories throughout the United States. When people "look up" a business on their mobile device, Yelp will often appear on search results.
With this in mind, your company citation should follow standard NAP protocol and ensure the following:
Accuracy: Error-free name, address, and phone number information
Completion: Every part of your profile should be complete, from logo to about-me section
Consistency: Identical information to other listings, including the suffix of the address (i.e., RD or Road)
Listings should be uniform throughout the World Wide Web. That means your Yelp listing information should be identical to the corresponding information on Facebook, Google Business Profile, HomeAdvisor, and others.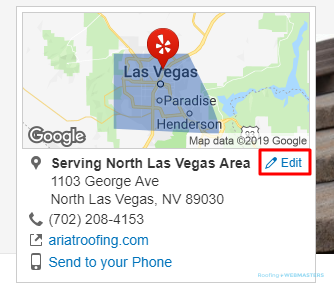 Social profiles also serve as citations, including; Facebook, LinkedIn, and Instagram. Ensuring identical representation on each citation source helps boost your local search rankings and overtake industry competitors.
Handling Negative Yelp Reviews
As is the case with any company, negative reviews are part of the business. While you can't control the publication of bad reviews, you can limit the amount of them by exercising precautions and responding to them professionally.
Precautionary measures to take include ensuring positive interactions with customers and generating as many reviews as possible from satisfied clients. Responses should always be solution-oriented and paint your company in a professional light.
Things to avoid when responding to reviews include; profane language, argumentative tone, and lack of accountability. Remember, it's not just the distressed customer you are speaking to; every user visits your review profile and reads the response.
Instead of viewing a bad review as a detriment to your company, you can view it as a PR opportunity to highlight the integrity and ethics of your roofing business.