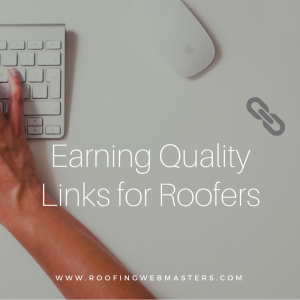 Links have always been a driving force of search engine optimization. Ten years ago, it was easy for websites to manipulate search engines by forming links with spammy web pages and content farms. This practice is no longer accepted in 2018, as Google's algorithm has evolved to disallow such manipulative behavior. In today's market, link earning is more important than link building. So while links are still a primary measure of a website's credibility, the way in which those links should be formed has fundamentally changed. Roofing websites should earn links through:
Brand Development: Establishing and developing your company brand through various channels
Consistent Output: Regularly updating your website and blog encourages natural links
Quality Content: Writing engaging, informative, and unique on-page content
Social Sharing: Publishing blog posts, and other content on social platforms like Facebook
A quality link profile combined with thorough on-page optimization can form an outstanding internet presence for roofers. Roofing Webmasters can help you through every step of the process. Not only do we offer website design and link building services, but we also offer on-page SEO and content marketing. We understand that establishing an online presence is predicated upon multiple efforts, each of which must be consistent and well executed. Call (800) 353-5758 to earn quality links for roofers.
The Death Of Link Scheming
Link manipulation was a popular practice ten years ago. It wasn't until Google's 2012 Penguin update that these types of tactics were majorly discouraged. Before Penguin, it was easy for a website to buy links, or to create agreements with other websites for link exchanges. The links in these cases usually existed for the sole purpose of manipulating search engines, and provided negative value to the user. In 2012, this all changed, as websites involved with link scheming suffered a major loss in rankings. Websites that were affected, participated in one or more of the following:
Buying Links: Purchasing inbound links from other websites
Link Networks: Claiming links on networks who produce artificial SEO
Link Spammiing: Posting irrelevant links in blog comment sections or forums
Link Wheels: Exchanging links with other websites for the sole purpose of SEO
While link associations in a general sense, used to be a barometer for the authority and credibility of a given site, those qualities are now more dependent upon the quality of the inbound link rather than the quantity. In an effort to challenge the exploitative behavior of many websites, Google has cracked down on the manipulative tactics mentioned above. Since Google's mission is to enhance the experience of its users, every measure they take will operate based on that premise. Roofing Webmasters can help you start earning links the right way, with our internet marketing services.
Roofing Content Worth Linking To
The best way to earn quality links is to create quality content. Since most roofing websites have their share of static service pages, having an internal blog is crucial to fresh content circulation. Blog posts are great because they can be easily shared via social platforms like Facebook, Twitter, and LinkedIn, which increases the likelihood of them catching the eye of another web entity. Earning links naturally based on the merit of your content is the ultimate indicator of Google's evolution, creating a more level playing field, and a more ethical landscape overall.
Finding the right marketing company to handle your online presence can be a challenge for roofing contractors. How do you know who to trust? What are you risking in your investment? Roofing Webmasters is unique in that we focus specifically on roofer internet marketing, separating us from more generalized companies. We know your target audience well, and how to effectively reach them through digital content. As for investment risk, our agreements are month-to-month, making that risk minimal, and placing accountability on ourselves to perform up to your expectations in each month. Call (800) 353-5758 to learn more about earning quality links for roofers.