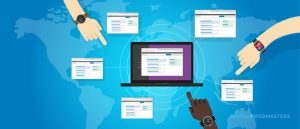 Your roofing company website needs quality link building in order to rank high in Google searches. We provide quality linking services that meet the Google standard. We never participate in spammy, unnatural link building. If your current roofing contractor website participates in this kind of behavior, you are likely to receive a website penalty, if you haven't already. Roofer link building should rely on reputable sources. If you put your trust in the wrong hands, your website may be vulnerable to penalties and poor performance. At Roofing Webmasters, we know exactly what Google looks for in links.
Why Roofing Companies Need Link Building
Roofing companies need quality link building for the same reason they need quality content, and quality design. The more quality elements to your roofer website, the more you will rank in search engines, and the more customers you will ultimately attract. This practice also works in reverse. The more low quality elements to your roofing company website, the more your website will suffer, and the more potential customers you will lose.
In terms of link building, you want your website to have relevant and helpful internal linking, as well as backlinking from reputable and relevant sources. Internal linking is the practice of linking individual pages within your website to one another. This technique allows users to navigate your website more efficiently. Creating clickable text on all of your pages will help them find their desired destination and lead them to a call to action more quickly. In addition, it can also help them gather more useful information that they didn't originally intend on finding.
Quality Backlinks for Roofing Company Websites
The quality of your backlinks is imperative to the success of your roofing company website. So you might be asking; what is a quality backlink? A quality backlink is a link that focuses on keyword relevance and links from a reputable source. Authority Roofer websites that list the best roofing company website in a particular area would be an example of a quality backlink provider. Variety also plays a factor in quality backlinking. You don't want all your incoming links originating from the same source.
Regarding keyword relevance, the text that contains a link must lead to a website that is relevant to that keyword. If your website is trying to rank for a specific keyword, linking from a reputable authority website, by that keyword, is a major advantage. It also helps if that authority site links to you without a reciprocating link. Google acts against deals or understandings between two websites that manipulate the link building system. Your site should only be linked to if it provides real value for the user. If people arrive at your website not looking for roofing services or roofing information, they are going to quickly leave, increasing your bounce rate. For roofer link building services call (800) 353-5758