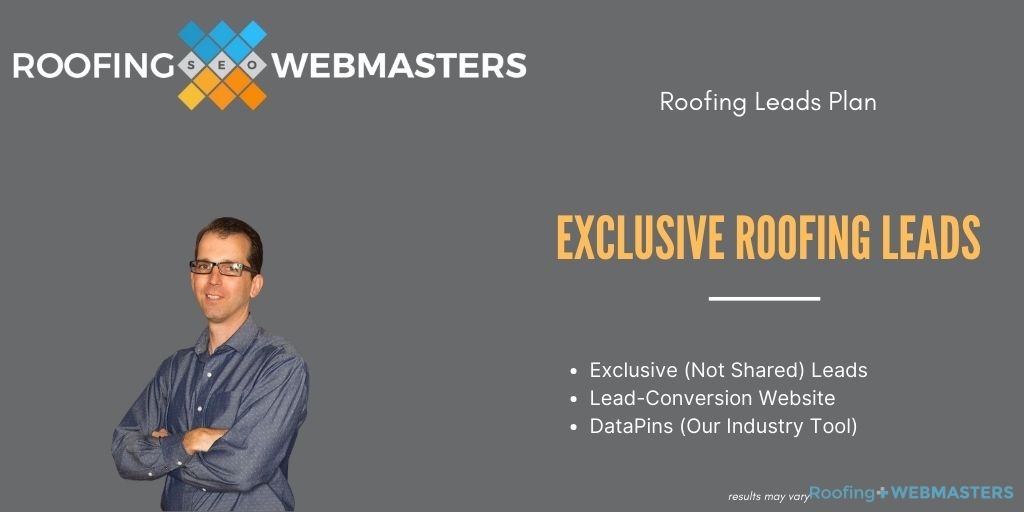 For more than 14 years, Roofing Webmasters has delivered exclusive roofing leads to companies throughout the United States. Over time, our powerful lead generation system has grown more refined, producing consistent and qualified roofer leads for local companies. Sign up for our roofing leads service today.
Roofer Leads Sent Directly to Your Phone
Our lead generation system funnels exclusive roofing leads directly to your phone through phone calls, texts, and form submissions. Prospects may contact your business through your custom website, your Google My Business listing (Google Business Profile), and other branded digital entities they find online.
Why Roofing Webmasters?
Our lead generation system empowers your company and brand in the long term. Instead of restricting you to the gig economy, where your company must survive on a lead-to-lead basis, we drive consistent and qualified leads to your branded entities, resulting in sustainable long-term business growth and success.
Leads are exclusive and qualified and never shared with other roofers
Leads come from local consumers who find your brand in a relevant context
Lead generation campaigns are crafted by a dedicated staff of experienced marketers
How do I get more roofing leads?
Getting more leads starts with establishing a web presence through SEO and website design. You should also ensure your business appears on Google's Local Map Pack so those nearby consumers can find your listing when they perform a local search. Your website also needs a clear call to action (CTA).
What is an exclusive lead?
An exclusive lead is intended specifically for your company rather than being a general inquiry into roofing services. Many lead sellers offer shared leads which forces multiple contractors to compete against each other for the same customer. Exclusive leads avoid this problem and convert at a much higher rate.
Does Roofing Webmasters offer unlimited leads?
Roofing Webmasters offers unlimited leads plans for companies. The more your web presence grows, the more likely you are to generate high-quality leads consistently. Our lead generation system is proven to produce consistent leads at an affordable cost.
Get Started Today
Get Leads Today
Our lead generation service has produced massive lead spikes that have resulted in life-changing profits. For example, one of our clients started getting hundreds of roofing leads per day (including 200 in one day) after a recent hail storm. The roofer net over a million dollars (we've seen over 2 million) by using our system.
Lead Channel Breakdown (Example)
Organic Search: 20%
Facebook: 10%
Nextdoor: 10%
Real Estate Agent Referrals: 10%
Insurance Agent Referrals: 10%
Yard Signs: 10%
Truck Wraps: 10%
Other: 5%
Church: 3%
Pay Per Click: 2%
Roofer Lead Categories
Residential Roofing
Metal Roofing
Storm Damage Roofing
Roof Installation
Roof Repair
Roof Replacement
Roof Cleaning
Gutters
Siding
And More!
Roofing Leads Cost and Pricing
Leads for roofers cost between $15 and $50 per lead. The pricing varies because variables like location, market, hail activity, and competition influence the exact cost. We've had roofing companies get thousands of leads in a year while paying only a fixed monthly fee. As you might imagine, the fixed fee significantly drives down the cost per lead compared to buying shared leads from 3rd party suppliers.
For exact lead pricing, give us a call at (800) 353-5758
Examples of Leads for Roofers
As a tenured company that has worked with thousands of roofing companies across the United States, we have countless examples of leads that come in through phone calls, SMS texts, emails, and form submissions. Unlike traditional lead-selling companies, the prospect found your brand, not ours.
"I need a full roof replacement on my home"

"The storm damaged my shingles"

"Does your company provide roof caulking for metal roofs?"

"There's flashing damage near my chimney"

"I need a quote for a low-pitch metal roof on 1,700 square feet"

"My steel roof is leaking"

"Need help deciding between a metal roof and tile roof"

"I need to install a patio off my roof"

"A tree hit my roof, and there's clear damage, please help"

"My gutter system is trashed, and I need tile roof replacement"

"I have a 30-year-old roof that needs to be stripped down with a soffit"

"My garage roof got hit by baseball-sized hail"

"I need a TPO roof replacement for my commercial building"

"Seeking a roof upgrade from asphalt to tile"

"Do you do timberline roof shingle installation?"

"Seeing a leak in the attic, need roof repair or replacement"

"Hail storm hit us badly and we need an estimate ASAP"

"Looking for roof coating services with expert analysis"
What Makes Roofing Webmasters' Leads Different?
Leads produced with Roofing Webmasters are extremely unique in this industry. The prospects find your roofing brand online and convert at a higher rate than sold leads. For example, the prospect specifically asks for your company and is already ready to invest in your services. These prospects are not shared with competitors because they are the ones who identified your company, and it's your lead to lose.
DataPins
Every roofer that signs up for our lead generation service receives DataPins, the most powerful Local SEO and reputation management software for roofing companies. DataPins automates social proof, review requests, and local SEO keyword coverage by leveraging your completed jobs into SEO signals. Your website will show recent jobs and request reviews from those customers via text and email.
Exclusivity
Exclusive roofing leads are the only ones worth pursuing because they help grow a sustainable business and protect you from the gig economy. These leads have a higher conversion rate and lower cost per lead. You can only generate consistent exclusive leads if you build up your brand online through a custom website, Google My Business listing, and refined digital signaling (as produced by DataPins).
Branding
Don't you hate paying a 3rd party lead service just to contribute to their brand over yours? Instead of paying another company to help them steal your customers, you could be investing in your own brand. Roofing Webmasters' system is pro-roofer because it helps build a long-term sustainable brand for you.
Experience
Our team of experienced campaign experts ensures your lead generation campaign covers each of your services and target locations. We don't outsource our work, so we can assure quality control through your website design, Google My Business listing, and DataPins branded signaling. Your on-site content is written by humans (not AI) and is based on more than a decade's worth of experience optimizing websites.
Reputation
We can't overstate the importance of reputation for roofing companies looking to generate consistent leads. We help you achieve and maintain an excellent reputation through automated review requests, review monitoring, and online branding. Consumers will trust YOUR company and use your service.
Sign Up Today
If you'd like to get started with Roofing Webmasters lead generation system and software, you can start getting exclusive and qualified roofer leads sent directly to your phone. To sign up, fill out the form below or give us a call at (800) 353-5758.
*lead costs vary