You've followed Roofing Webmasters search engine optimization strategy, and now your business is growing at a higher rate than ever before. What is next? The answer is; maximizing your service area. Call (800) 353-5758 for roofer search engine optimization.
How to Maximize Your Service Area
Before thinking on a larger scale, roofing contractors should maximize their local service areas. But how do i maximize my local service area? Through keyword research, quality content, and online citation sources. More than likely, there is an untapped base of customers right in your area. At the very least, your roofing company should focus on:
Brand Recognition
To truly maximize your local potential, your roofing company logo must be somewhat recognizable in the community. Upload your logo on your main website, your online listing directories, and each of your social media profiles: Your logo should be visible in the following places:
Main Website: Homepage, About Us page, Contact Us page
Online Directories: Google My Business, Yelp, Angie's List, etc.
Social Media: Facebook, Twitter, Linkedin, etc.
Make sure your logo is the same on each website, and if you've recently updated the design, make sure you go back and replace the logo on each social media profile, and online directory. Consistency is a critical element of brand recognition. You don't want customers confused, but rather to definitively associate your brand with one logo.
Keyword Placement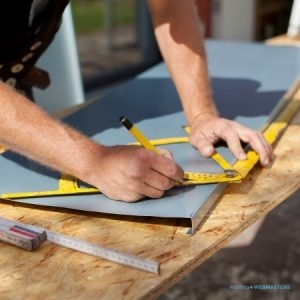 Many unhappy roofing contractors we talk to are only optimizing for very competitive keywords. There are hundreds of long tail keyword opportunities, that can be taken advantage of. If you are truly looking to maximize your service area, you should follow these keyword practices:
Keyword Research: Using Google's Keyword Planner, roofing contractors can get an idea of the competition level for specific keywords
Keyword Density: Avoid keyword stuffing in your content, and only place the keyword where it makes sense to the user, and properly markets your services
Keyword Diversity: Don't put all your eggs in one basket, and try ranking for multiple keywords, so that you can diversify your assets
Content is king. But keywords exist within that content, to help attract potential customers to your roofing company website. Keyword stuffing is against Google's standards, and keyword placement should only be utilized within the context of Google Webmaster Guidelines.
Search Visibility
So you're probably thinking, "I already am visible, and my business is growing". Yes — growing, meaning an ongoing process that should not stop after initial success. Too many roofing contractors make the mistake of trying to expand their service areas too quickly. If you can honestly say that you've maximized every aspect of local search optimization, then you can move on. Get the most out of the following search visibility tactics:
Directory Listings: It might sound like a broken record, but there are far too many roofing companies, even successful ones, that are leaving customers on the table by not claiming and optimizing their citation sources
Organic Search: So you're #3 for your local roofer SEO keywords, but what's stopping you from #2, or from #1? Make it your objective to reach the top spot
PPC: Have you ever really launched a fully optimized PPC campaign, meaning one with specific location targeting, researched keywords, and market inefficiency monitoring? If not, you could be missing out on a large base of customers
So yes, growing your local roofing company is an outstanding accomplishment, but before you look to parlay your hard work into even harder work, try to maximize your local service area as completely as possible. If you believe that you have maxed out your value in the local community, service expansion becomes a legitimate marketing option. Call (800) 353-5758 to discuss roofer SEO management.