Summertime makes us all look at little closer at our daily energy consumption. As we soak continue to soak in hours of cool refreshing air, that electric bill climbs steadily higher. When homeowners see that first energy spike in their monthly utility costs, roofers face a crucial window of opportunity. Summer is a season for promoting energy-efficient roofing!
But how can professional roofers take advantage of the increased homeowner (and business) interest in efficiency? As more and more people flock online for all their home improvement needs, roofing companies must strike out to meet them there. Today, we'll discuss how to take advantage of the season to draw in people towards energy-efficient roofing. By the end, you should be able to craft your own practical strategy for courting roof replacement clients! Now, let's dive right in.
Stage 1: Informative Content Creation
Any successful online marketing focuses on drawing people towards your company website. One of the secondary benefits of seasonal promotion is that it spurs readers to visit (or in some cases, revisit) your business. The additional interest in your website slowly elevates your site in Google's search engine rankings.
Of course, we encounter a very pertinent question at this point: How do we get people to visit the company website as they search the topic of energy-efficiency?
Keyword Research
First, we need to understand how people are searching online! Most quests for home energy-efficiency begin with a simple question or phrase on a Google search.
Popular Searches on Google About Energy-Efficiency
"How can I save money on my electric bill?"
"energy saving"
"how can energy efficiency be improved"
"save energy at home"
"how energy efficient is my home"
"energy saving tips"
"What's the best way to save energy at home?"
With adequate keyword research, we can easily discover which phrases are most likely to draw in user traffic. Some of our favorite tools for research at the Roofing Webmasters include Answer the Public, Ubersuggest (seen below), and SEMrush. As you plan your upcoming promotional content, your results will heavily depend on the quality of keywords and questions you uncover during your research phase. So don't skip it!
After identifying some quality keywords to utilize in your upcoming content, we can move along to the writing phase. If you found any related questions on Google's search page results, bring those along too! These questions and phrases will simplify your planning process as you decide how to structure your content marketing materials.
Crafting Engaging & Informative Content
Content marketing is an area of online strategy that many companies are wary of, and for good reason. If done poorly, it may waste quite a bit of time and effort. However, many businesses see incredible, low-cost results from shrewdly executed content marketing. We could do an entire blog post on the benefits and strategies behind the concept. For today, just know that it serves as a valuable tool.
Remember earlier when we said that online marketing begins and ends with your website? One of the best ways to simultaneously generate interest and draw traffic to your website is company blogging. Blogging capitalizes on homeowners' curiosity and hunger for information, by providing tailored, detail-rich content. Write an article about the most cost-effective home improvements for saving energy. During that time, you can briefly discuss energy-efficient roofing and the benefits thereof.
Remember, content marketing doesn't focus on selling. The goal is to provide an informative article about a subject that homeowners have heavy interest in. Only 5-10% of your article should promote your business (at the end of the piece). If you don't feel comfortable about writing the material yourself, talk with a local SEO expert about finding a qualified writer.
Stage 2: Spreading the Word & Preparation
So once your informative content is finished and published on your site for the world to see, is that it? Should you just watch and wait for the lead calls to pour in? Not just yet. There's still some crucial work that needs to be done. In addition to sharing the content on the right platforms, you also must prepare rest of your promotion strategy is ready to leap into action.
Sharing Content
How to Spread Your Content for Maximum Effect
If your company has a Facebook profile, Twitter account, etc., you can take advantage of these platforms to share your newly-crafted content. You don't need to post a full 800 word essay on energy-efficiency. Simply include a key snippet and link back to your website. If you want your work to spread even farther, try partnering with a local energy auditor or related business that you trust and co-promote each other's services! 
Want another free tool for even more content sharing and seasonal promotions? Look to your Google My Business profile! You can create posts that show up on Google Maps and link back to your website. You may even notice a subtle improvement in your search engine rankings.
Preparing for Sales
Getting Your Website & SMM Ready
Once the tables are set, your content released, and the readers coming in, will your website be ready to convert them into potential customers? Whatever service(s) you pick to promote for your energy-efficient roofing promotion, make sure these pages are ready for business! You'll need clear navigation from your homepage, authoritative (and keyword-enriched) writing, and a prominent call to action. For more tips about quality design, be sure to check out our recent article on crafting successful websites for roofers!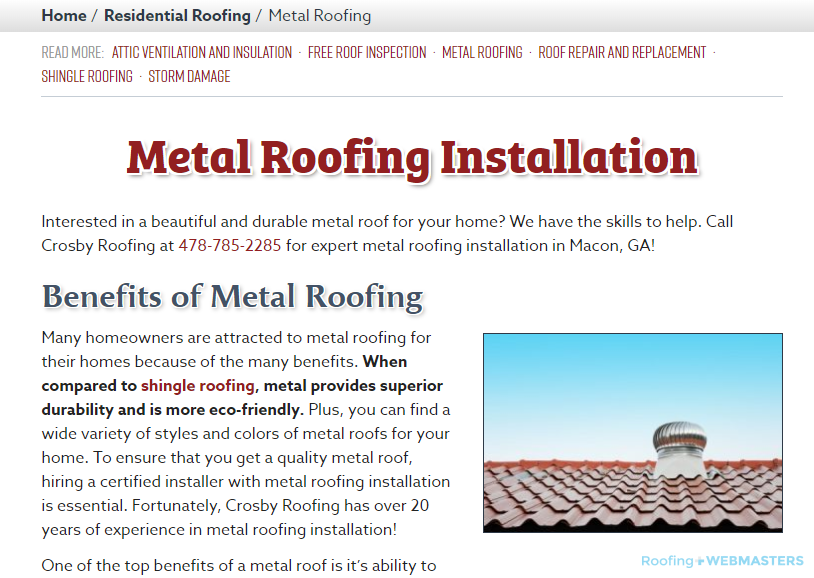 After all that work in your content marketing to avoid overselling, it may feel strange to take a more authoritative stance when you provide a call to action. Keep in mind that by this point, readers have invested serious time in their research and are likely wanting to gain more detailed information directly from a professional. Invested researchers will actually appreciate getting pointed directions on how to contact you. If you fail to provide a clear next step for them however, they may leave your website to look elsewhere!
You may want to take similar steps on your Facebook business profile in case people choose to contact you directly from there. That's why it always pays to have your contact details clearly visible as people scroll down your wall. People may attempt to contact you through Facebook Messenger to ask questions about energy-efficient roofing, so it will also be prudent to routinely check your messages there.
Stage 3: Additional Advertising Solutions
Finally! You've crafted your fresh, informative content and shared it with the world. You also ensured that your company website is tuned up for the additional site traffic, ready to convert interested readers into potential clients. At this point, you've done everything necessary to maximize your content marketing payoff. You still have a couple of tools to take advantage of the seasonal push for energy-efficient roofing. There's just one notable difference…because it's paid advertising.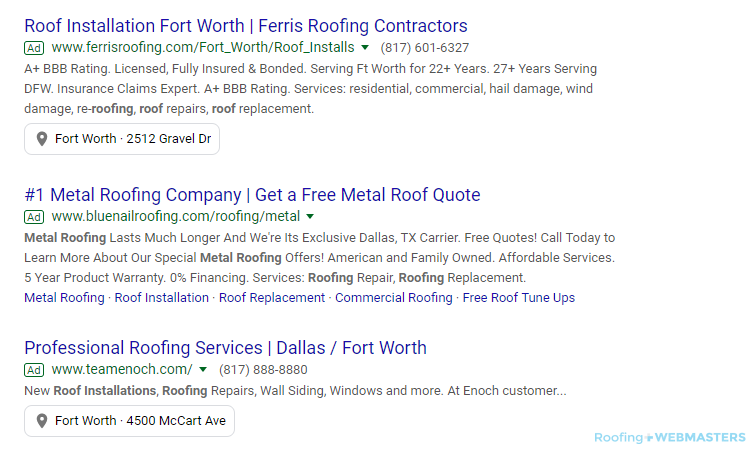 With Google Adwords and Facebook Marketing however, you won't have to break the bank to get results for your business. In Google Adwords paid search campaigns, many businesses see a 200% return on investment, probably because their listing gets featured at the top of Google's search engine results pages. Paid search offers some truly incredible results, and you'll enjoy more control over your results. Just make sure you do your keyword research, as energy-efficient roofing is a very competitive sub-industry!
Closing Thoughts on Energy-Efficient Roofing
Don't let online marketing inexperience scare you away from the amazing business your company can earn. While it takes time to conduct your research, create quality content, and share it, the benefits are certainly worth the effort. At Roofing Webmasters, we offer the essential tools and services your roofing company needs to succeed in an increasingly online world. From complete website design to energy-efficient roofing promotion, these solutions enable our clients to regularly rank in the top of their local Google search results!
To learn more, call our friendly staff today at (800) 353-5758.