You paid good money for a commercial roofing website and want a substantial return on your investment. As an industry-acclaimed roofing SEO company, we understand your goals. Still, even the most sophisticated roofing SEO strategy takes time to deliver results. While you wait for Google to gain trust in your website and its content, there are other steps you can take to promote your website.
The question is: How can you promote your website in the meantime?
This challenge proves especially challenging for startups on a tight budget, but there are ways to spread the word about your roofing company without breaking the bank. Today, we'll analyze several accessible places to promote your website, including social media, citation sites, and digital word of mouth. By the end, you should have the insights necessary to craft your own sophisticated plan with results other roofing contractors will envy.
Stage #1: Social Media Promotion
Social media comes with its fair share of traps and pitfalls, but it also offers hugely lucrative opportunities to promote website traffic. Roofing contractors simply need to understand where to invest their time and effort. When it comes to social media channels, the most successful roofing companies concentrate their efforts on Facebook, YouTube, and Instagram. If you have trouble remembering, just remember FYI. (Facebook, YouTube, Instagram). That may vary slightly from market to market, but these platforms typically offer the highest exposure because of their substantial user base.
How to Promote Your Website on Social Media
Step #1:

 Start and fill out your social media profiles as completely as possible.

Step #2:

 Ask happy customers to leave glowing reviews (especially on Facebook).

Step #3:

 Add 

outstanding

 pictures of your work and critical staff.

Step #4:

 Make a simple (doable) plan to create, edit, and post content regularly.

Step #5:

 Have someone consistently monitor any platforms with reviews.

Step #6:

 

Always 

link back to your company website.
How to Promote Your Website on Facebook
One of the best parts about Facebook is that it provides an opportunity for organic promotion, while also offering a sophisticated PPC ad platform. If you haven't read it yet, check out our article on why Facebook Ads work so well for roofers! The social media giant offers extremely intelligent demographic segmentation, meaning it's easy to target the specific people groups you need to see your ads.
"How can I promote my website without spending money?" While they might not have quite the same sway as Google Reviews, Facebook user recommendations influence Google's perception of your company. Much of plumbing company SEO relies on establishing a reputation for trustworthiness, a trait that Google frequently mentions in their Quality Rating Guidelines. The search engine examines reviews and recommendations from citation services, too (something we'll discuss more later). To put it simply: you need to ask your customers to promote your business.
When Asking for Reviews…
Ask immediately following a successful job.

Never

 assume they understand Facebook.

Provide a direct link to your profile, plus steps to fill out a review.

Include any desired hashtags or links you wish them to attach.
One of the best ways to ask for reviews is by providing your customer with a physical "Review Us" card, with steps included. It may cost you a small amount to print the cards, but glowing reviews are worth the expense. Remember, recommendations make all the difference in roofing contractor SEO.
How to Promote Your Website on YouTube
YouTube is a puzzle for many roofing companies. Most understand the value of going viral and earning millions of views, but they fail to see some of the service's more practical uses. Instead of viewing it as a platform for exposing your brand to the world, think of YouTube as a productive interaction tool. Roofing installation and repair projects represent a significant investment for homeowners, so they want to get to know their potential contractors as much as possible beforehand.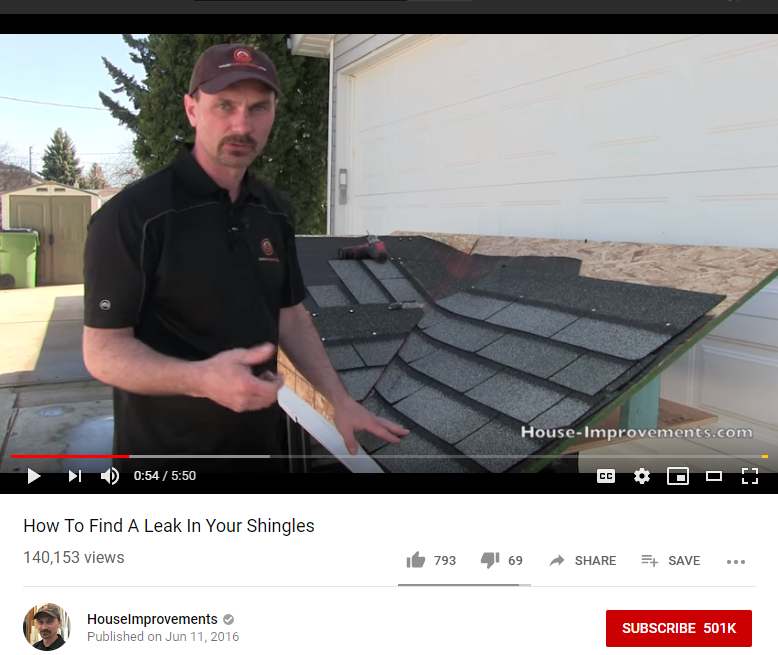 We've already talked about how Facebook reviews develop trust with consumers. Video footage also helps break the ice, showing people what to expect when they meet your roofing company experts. If you want to take advantage of YouTube, you can employ a few more strategies.
Promotional Opportunities on YouTube
Include your company website URL in the corner of every video you make.

Embed your best videos on a "Resources" or "Pro Tips" page on your company website.

Share your videos on Facebook and Instagram.

Upload collection videos of your best (picturesque) roofing installations.
How to Promote Your Website on Instagram
Instagram offers an equally diverse array of advertising potential, but photo ads may be the best tool for contractors starting in the roofing industry. Instagram caters to a relatively younger age range than Facebook, but the usage stats among home-owning ages are still very impressive. Check out the Pew Research Center's 2018 survey for these social media platforms.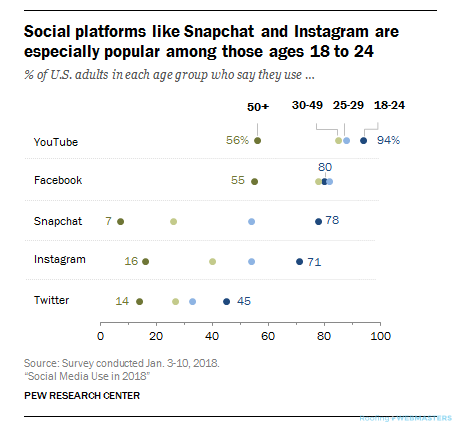 Instagram is a great place to showcase your best roofing projects. If you're wondering, "How do I get more visitors to my website?", simply include links back to your website. As your photos get shared, you'll also be improving your backlinks count. Backlinks represent a substantial boost to your roofing contractor SEO because Google views them as a signal of your site's authority. Of course, you can always use Instagram as a place to broadcast exclusive deals and events.
The rich visual media of Instagram offers the perfect chance to show the quality of your roofing craftsmanship. You can show off your work through stories, or you can go even further and purchase Photo Ads (example below) that link back to your site home or a specialized landing page.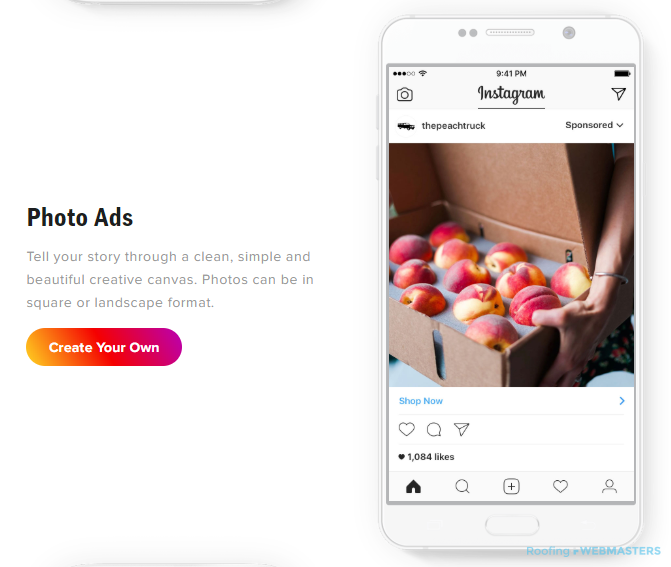 Stage #2: Citation Services
Remember earlier when we said that reviews make all the difference? Where you earn and implement those reviews also affects how Google judges your website. Citation services offer convenient locations to list your service and solicit reviews. Even if you only claim a listing in a handful of these services, you'll notice severe results in both your lead generation and roofing company SEO.
Where to List Your Business
Google My Business (free)
Facebook
Yelp
Better Business Bureau
Angie's List
As a rule, anytime Google offers a free resource to enhance your company listings, use it. Google My Business (GMB) profiles drastically improve local search visibility. All you need to do is claim your free listing, fill out your information, and confirm.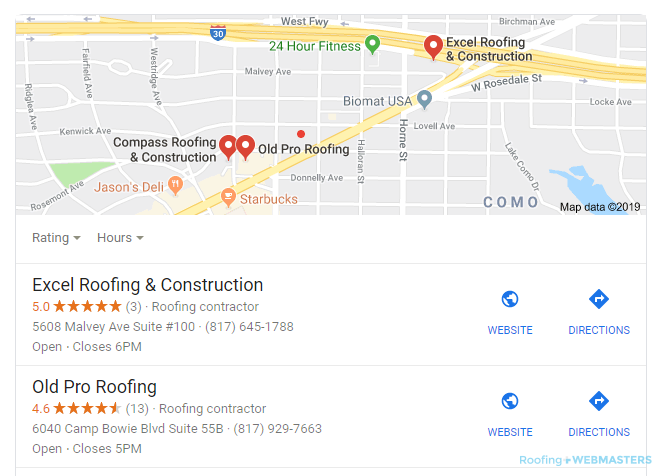 We recently talked about the many paths towards ranking #1 on Google and how taking the top spot looks different from it did a decade ago. One of the essential tools for enhancing your company exposure is the Local Pack feature. Also known as the Triple Pack, these top 3 listings offer incredible traffic boosts for featured companies. Complete your Google My Business profile, and your business may just appear in these local SERP features.
While Yelp and the Better Business Bureau certainly help establish your company's credibility, many businesses seem to overlook Angie's List. Online citation sources can always improve your business, but Angie's List caters exceptionally well to service companies. Given the highly specialized nature of the service and how convenient it is for homeowners looking for assistance, it's worth trying out.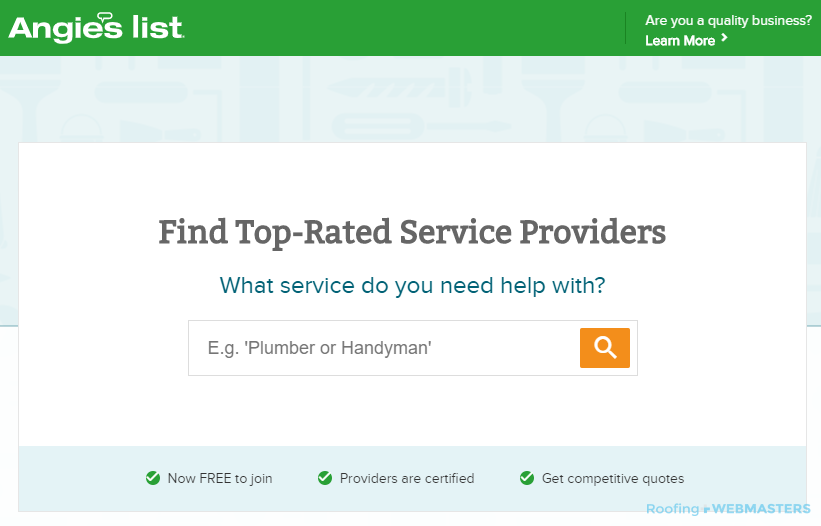 Stage #3: Word of Mouth
Even with all today's digital marketing activities, there's still something special about a personal recommendation. That's why you should always encourage your most enthusiastic clients to spread the word about your business. Just make sure you provide them with a convenient way of sharing their experience, whether that's a how-to card for completing a Google Review or a personal email linking to your Facebook page.
If you want to knock future customers' socks off, make videos of your favorite projects, and interview the client (with their permission, of course). Share the video on all your chosen social media outlets and embed it on your website.
Closing Thoughts on Promoting Your Website
While off-site promotion is essential for ranking higher on Google search results, these promotion types only enhance (not replace) traditional roofing SEO. Once Google crawls and indexes your website, it's up to your company or your online marketing service to continually refine and re-optimize. With that being said, these platforms and tools will make it much easier to promote your website and increase traffic volume.
If you'd like additional information on getting more visitors to your site or creating a completely new design, our team at the Roofing Webmasters would love to assist you. Our roofing contractors enjoy top ranking in their local search results, earn higher quality leads, and maintain healthy growth. We'd love to answer any questions you may have about search engine marketing and how to promote your website.
Call Us at (800) 353-5758 to Start Ranking Up