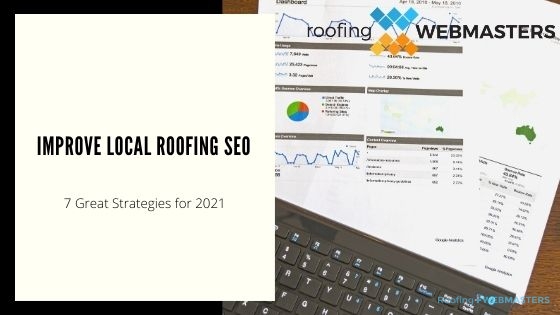 When other roofing companies rank high on Google, many contractors question how they can get to the top. Various ranking factors determine where and when your roofing website ranks, but local roofing SEO provides a unique set of challenges for location-based companies. Service areas with high populations also have high competition. Roofing SEO Webmasters explains how to outrank your fiercest local competitors.
Local SEO Tips for Roofing Companies in 2021
While every aspect of SEO is related, local search optimization requires unique tactics to secure top rankings. Think of local rankings as your best way to promote your services locally, similar to the yellow pages in pre-internet times. Google's local algorithm considers factors like proximity, relevance, and prominence when deciding which listings appear within the Local Map 3-Pack. The search engine also considers location modifiers like the city and state name when ranking website listings. Whether you purchase roofing SEO services or implement the optimizations manually, you must know the best strategies.
So how can roofers ensure local rankings in 2021? Take a look at these techniques from Roofing Webmasters:
1) Insert Location Modifiers
We mentioned location modifiers as something search engines look for when ranking local search results. Consider placing local modifiers like your city and state name within your content, title tags, meta descriptions, and internal links. Even your Google My Business listing performs better if your company name includes a location modifier. However, unless your actual business name consists of the modifier, you should refrain from inserting it on your listing, as such a practice can get your listing banned from Google My Business. Focus on placing the locations within your website content so that Google can scan the terms.
You might ask why Google needs location modifiers to rank a web page. While they can detect your location based on other factors like schema markup, search queries from local users often include the modifiers, creating a user intent that your website must match for maximum rankings. For example, a local user may search for some of the following terms.
roofer in fort worth
fort worth roofing company
roof repair fort worth tx
The location modifiers can apply to each of your roofing service types, including lower volume searches that may not pull up on keyword research tools. You will find that on your Google Search Console, page clicks continue to rise as you add more modifications.
2) Expand Keyword Range for Your Roofing Website
Most roofers use keyword research tools like SEMRush, Moz, and Google Keyword Planner to find search volumes for roofing keywords. However, many of the highest-performing keywords won't show volume on any of these tracking tools. Sure, significant terms like roof repair, roof restoration, and metal roof coatings will offer plenty of volumes, but the volume grows far lower after attaching location modifiers. Don't be fooled by the lack of search volume; however, rest assured that adding a wide range of keywords will pay off with clicks. You can track your organic clicks through Google Search Console, which also provides lots of search query data to know what your visitors are searching for.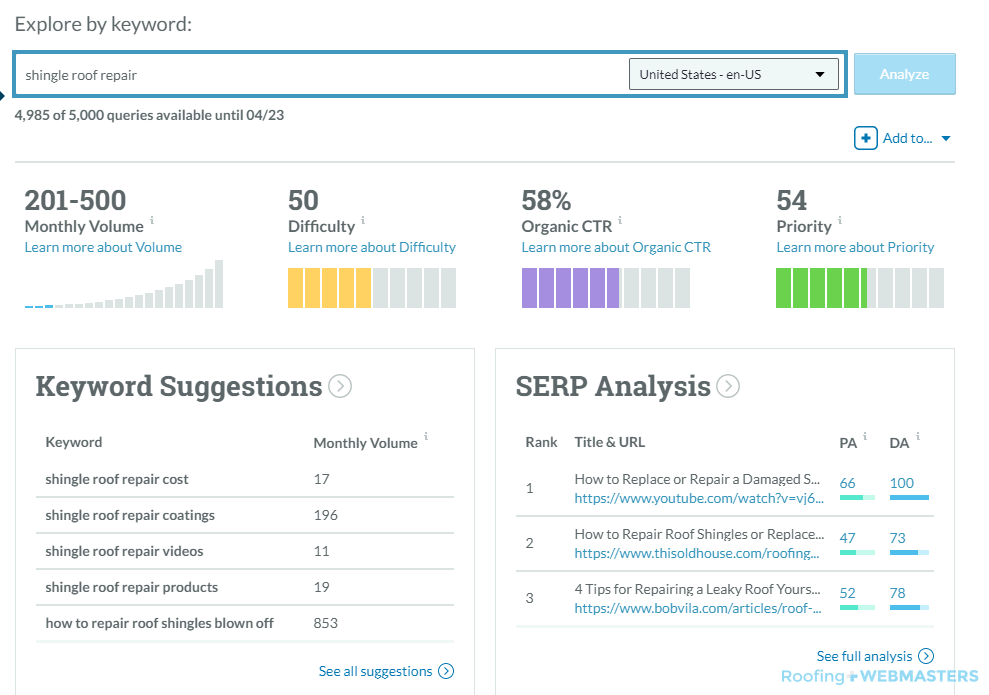 Aside from location-specific terms, other lower volume keywords can also pay off for your roofing website. Consider a keyword like wet patch roof leak repair, which may be considered a long-tail keyword. While it won't match the search volume of roof leak repair, the added context makes it easier to rank for on your website. It's crucial to create service pages for each of your roofing services and find groups of keywords that apply to each service type.
3) Create and Optimize Your Google My Business Listing
Ranking on the Local Map-3 Pack is crucial for roofers since those search results appear above traditional organic results. Users searching for roofing services on their mobile devices are especially likely to select one of the three nearby listings. To show up on Google Maps, you must create a Google My Business listing for your business. You can claim or create your business listing at business.google.com. Make sure you have a company Gmail address before claiming your business. If someone has already claimed your business, your account may already exist under a different Gmail address.
Claiming your business is not enough to rank in the Map 3-Pack. To ensure the highest rankings, you must optimize your GMB listing for roofing. The best way to build up your listing is to add unique photos of your staff and equipment, enter accurate business information, attach your website URL, and get as many reviews as possible. You can also answer FAQs directly on your GMB listing and even publish Google Posts that showcase discounts, offers, specials, and more.
4) Build Local Roofing Citations
One of the best link-building methods for roofers is citation building. While citation listings count as nofollow links (meaning Google views them as a hint rather than an endorsement), research shows that local citations can help establish roofing websites on search engines. Google uses links for both crawling and indexing purposes, as well as for ranking positions. Listing your roofing business (along with its website URL) on popular directories like Yelp, Angie's List, and HomeAdvisor can help your website's SEO. You can also get referral traffic directly from those directory websites.
Look for local directories, in addition to the national ones, since local links can help establish your company in a specific location. Consider joining local chambers of commerce and other similar organizations willing to list your business information on their platform. Local signaling helps establish your brand in your service area and helps you rank in Google's Local Map Pack.
5) Download BrandREVU
Some local SEO tasks grow tiresome for roofers who are busy repairing and restoring roofing systems. Consider investing in local SEO and reputation management software like BrandREVU. The BrandREVU tool allows roofing contractors to perform jobsite check-ins through the BR app, which get automatically published to the corresponding roofing page. The check-ins get wrapped in local schema markup which validates both the service and service area for Google Search and Google Maps.
Aside from helping roofers rank locally, BrandREVU also serves as a reputation management software for roofing companies. For example, the tool sends automated SMS and email review requests to each customer you service. The requests include shortlinks that make the review process exceedingly simple for the consumer. As you build more reviews, your Google Maps listing starts ranking even higher for relevant local keywords. Additionally, more reviews help convert users at a higher rate.
6) Implement Schema Markup
Schema markup helps your website communicate with search engines like Google. It can tell Google what kind of business you run, where you are located, and other valuable information. Applying schema markup to your local roofing website gives you a leg up on competitors who fail to implement the microdata code. Remember, the goal of SEO is to work with Google, not against it. If you can help Google understand your website, you can rank higher on SERPs.
Schema markup also helps you get additional SERP features like rich snippets, sitelinks, and other markup displays. Enhanced SERP features may encourage more users to click on your website, improve your click-through rate (CTR), and build your overall authority.
7) Prioritize Location Pages Over Blog Posts
Roofers tend to fall into obsolete SEO strategies such as blogging. While blog posts can still have value if targeting the proper keywords, they predominantly serve as fluff content that users and search engines ignore. Instead of creating how-to blog posts that likely won't convert, you should focus on dynamic location pages that help your roofing website rank for more cities. You should only implement this strategy if you know what you're doing.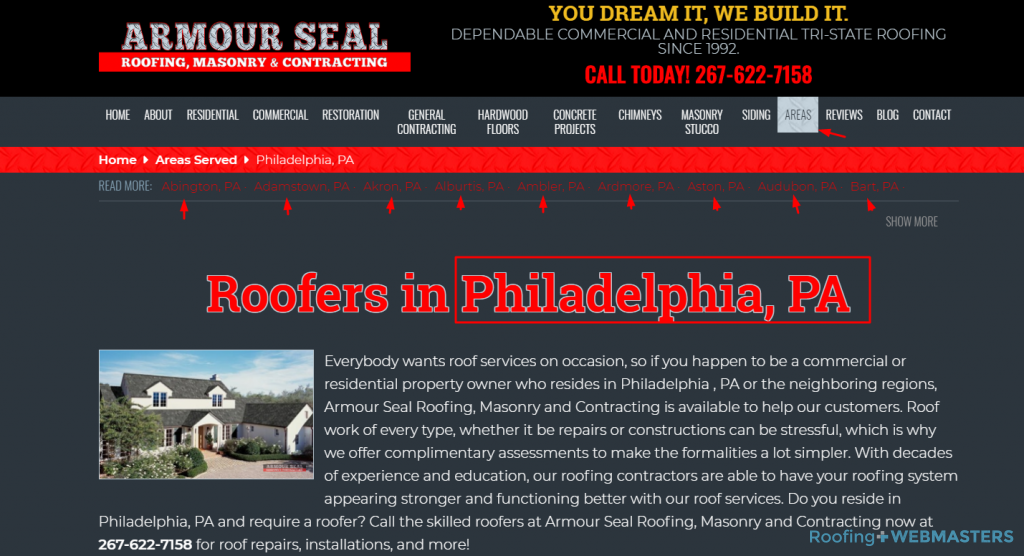 Any website should avoid thin content, whether it is a blog post or a location page. It is essential to make each of your location pages unique and specific to the location. BrandREVU, as mentioned earlier, can help roofers achieve this by tagging appropriate check-ins to their corresponding location page. Unique and user-generated content ensures that each page holds an exceptional value and satisfies the search query's user intent.
Additional SEO Strategies for Roofers
Build a silo site-structure with parent and child pages
Focus on internal linking for helpful user navigation
Embed your Google Maps pin on your website
Add a Review Us button to the bottom of your website