It has been a crazy year weather-wise across the whole country! While we are (hopefully) past the worst of the storms, there are still people throughout the nation who are dealing with hail damage and the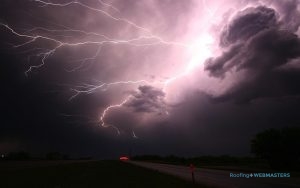 aftermath of storm after storm. As a professional roofer, you have invaluable services to offer that are desperately needed, especially by your own neighbors. Many fly-by-night "contractors" are showing up in the wake of storms, littering towns with their signs, and attempting to play on emotional decisions of homeowners and business owners who don't know where to start when it comes to getting their property restored. You should be getting that local business!
If your online presence is non-existent, you're likely missing all of those calls. Many folks have been so overwhelmed by the volume and intensity of storms that they've yet to begin major repairs, much less narrow down who they'll trust with their valued property. The insurance aspect has also caused many to take a slow start when it comes to beginning to work on restoration, as anticipated complications of the whole claims process scares away potential customers who genuinely need repairs (sooner than later, at that). Properly optimizing your website to capture hail damage leads can pay significant dividends for roofing companies.
Count on Us to Connect You to Your Customers!
There's still time to throw your hard hat in the ring and capture some of the business that you know is out there! Hail damage repair searches have soared this year, and our expert team at Roofing Webmasters can help ensure that you have the right content and keywords throughout your site to show up locally, so you can be there for your neighbors.
Call us right away at (800) 353-5758 and let us manage the search engine marketing for your business website. There are so many components that go into optimizing your company's web presence on the internet so that you can stay competitive in the search engine rankings. But especially in emergency situations, such as hail damage and post-storm repairs, that's how your potential customers are shopping and where you'll need to be. Count on Roofing Webmasters to get you there!