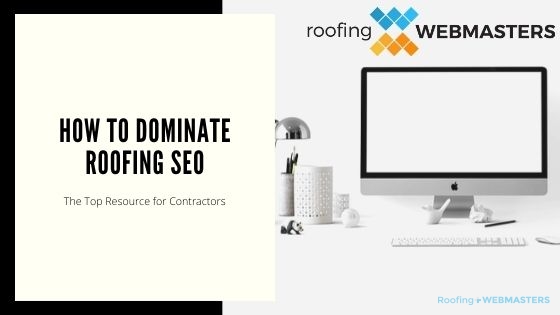 What is SEO Domination for Roofers?
SEO domination is the achievement of high search engine rankings for the most popular keywords in a specific market. For example, a roofer in Seattle, WA ranking #1 for roof repair seattle, roofing company seattle, and roofing services seattle is dominating Google search. True domination involves ranking not only on traditional organic results but also within Google's Local Map 3-Pack. Dominant SEO for roofing companies will empower your branded web platforms to receive over 30% of all clicks for a given keyword.
Elements of SEO Domination for Roofing Companies
Roofing companies can measure SEO dominance through various metrics including clicks, rankings, traffic, and conversions. It is important to also track both Google SEO platforms, traditional and local. Tools like Google Analytics, Google Search Console, and Google My Business Insights will provide all the necessary data to determine whether your roofing company dominates its market with SEO.
Clicks
You can measure clicks through both Google Analytics and Google Search Console. Using Search Console is easier because it only tracks clicks from Google, the most important search engine. Analytics however will track organic clicks from all search engines including Bing, DuckDuckGo, and Yahoo. Keep in mind that Search Console and Analytics also track website clicks from your roofing company's Google My Business profile.
Rankings
You can measure rankings with Google Search Console by looking at the average position metric. Roofers may compare average positions from up to 12 months prior versus today. You can also track keyword rankings over time using tools like SEMRush, MOZ, and AHRefs. Lastly, roofing companies can manually track keyword ranking changes by setting up a spreadsheet in Google Sheets or Microsoft Excel.
Traffic
Search traffic is a fair measurement for digital marketing in general, but for SEO purposes, you should only track traffic coming from organic search. Anytime a user visits your website via Google search or Google Maps you can count that as part of your SEO campaign. You can track this type of traffic by applying a filter to your Google Analytics report.
Conversions
Like traffic, not all conversions will come from SEO. While it's impossible to properly attribute every conversion to a specific campaign, you can get fairly close with the proper attribution setups. For instance, inserting clickable phone numbers onto your website, and tagging those links with attributions that filter into Google Analytics or call tracking software can identify which segment of your SEO traffic is leading to conversions.
Platforms To Dominate SEO for Roofers
So what platforms should you target for SEO dominance in 2021? Most companies know about the importance of Google for SEO traffic, but what about Google Maps or non-Google entities like Bing, DuckDuckGo and Yahoo? The good news is the most search engines often similar free tools to Google which serve as equivalents to Google Search Console. Let's examine which platforms to target for search engine optimization dominance in 2021.
Google Organic Search
The ten blue links in organic search are the most traditional SEO targets for websites. Typically, the #1 result gets 33% of clicks if there is no Local Map 3-Pack appearing above the listings. Everything about your on-page SEO will help you achieve rankings on traditional Google search results. Attending to your website, adding new content, and properly interlinking for topical relevance will all strengthen your organic rankings.
Google Local 3-Pack
Google's Local Map 3-Pack is the most popular platform for roofing consumers in 2021. When a local user searches for roofer near me, or a similar phrase, they see a group of three Google My Business listings that match their query. Appearing within this Map-Pack requires setting up a Google My Business listing, acquiring customer reviews, and strengthening your GMB profile.
Bing
Bing is the second most popular search engine, though it only receives 2.71% of search engine activity. Still, optimizing your website and listing on Bing is worthwhile for roofers. Like Google's Map 3-Pack, Bing offers a similar Bing Places section. You should claim your business on Bing to ensure you can appear within their local search results for relevant terms and phrases.
DuckDuckGo
DuckDuckGo is an emerging search engine that holds 0.66% of the global market share, but more than 3% of U.S. search engine activity. Users worried about tracking and privacy are more likely to use DuckDuckGo to find their roofing services. Optimizing for DuckDuckGo is similar to how you optimize for any search engine, which means performing typical on-page and technical SEO tasks while publishing high-quality content.
Yahoo
Yahoo was arguably once the most popular search engine in the United States, but those days are long gone. Today, Yahoo is simply a portal version of Bing. In other words, Yahoo search results come from Bing's search index but still show the Yahoo badge on top. Needless to say, optimizing your website for Bing will also optimize it for Yahoo in 2021
Best SEO Services to Dominate Rankings
For roofers, investing in SEO services is the best way to dominate rankings. Of course, not every agency will be able to do the job properly. Just like with your competitors, only one company can truly dominate search results. As a company that specializes in the roofing industry, it would be wise to evaluate the top roofing SEO agencies to see which is most dominant.
Roofing Webmasters
Here at Roofing Webmasters, we pride ourselves on being the most dominant SEO agency for roofers. We have hundreds of clients, all of whom perform well on Google search. We help each company dominate their local market so that they too can take pride in their online presence. Our agency also offers a tool called DataPins which gives our clients a distinct advantage over their competitors. DataPins automates geo-coordinated schema pins that validate your services and service areas in 2021.
Other Agencies
Most other roofing marketing agencies are tied for second, but all fall short of Roofing Webmasters. The reality is that none of these companies offer DataPins. Many of them charge more for services and lock clients into long-term contracts. Our services are month-to-month, meaning you can cancel at any time without a long-term commitment. Best of all, we offer DataPins which nobody in the industry can compete with in 2021 going into 2022.