Google AdWords, now Google Ads, is one of the most valuable marketing tools available to roofing contractors throughout the United States of America … as long as it is correctly utilized. The flipside of PPC for roofers is that it can be a waste of money if managed by a novice without previous experience in paid advertising campaigns. Attracting clicks, acquiring leads, and converting customers is the goal of most roofing companies online and regularly achieving any one of them requires marketing savvy, let alone all 3 of them. With that said, creating a successful roofing PPC campaign can pay major dividends.
With nearly a decade of PPC management experience, Roofing Webmasters has gained knowledge about the elements that make up a successful roofing PPC campaign. Because our company specializes in roofing advertising, we understand the nuances of an industry-specific campaign and one that targets the type of searchers that are likely to convert into paying customers. Our findings are based not on theories, but on a near-decade of research from some top roofing internet marketing specialists in the nation. We have Google Ads Certified campaign managers on staff, ready to assist your roofing company in meeting its goals for 2021 and beyond.
Throughout our years in the digital marketing arena, we have run hundreds of successful PPC campaigns for roofing companies just like yours. Our clients span across all corners of the U.S. from large metropolitan areas to small towns with low populations. The common elements of a successful campaign include:
Budget
Paid search campaigns are often discussed but seldom understood. Many in the industry argue among themselves as well as with clients about what constitutes success in a Pay Per Click campaign. Roofers should be primarily concerned with ROI or return on investment. The only way to ensure a positive ROI is to set a manageable budget that projects a favorable return on investment. Google stresses that budgets should be set based on the average amount roofers are comfortable spending in a given day. By capping out your budget at a defined number, you mitigate the risk of an advertising campaign gone wrong. Your Google Ads budget should be:
Capped: Every budget should have a threshold it cannot pass
Dependent: Your budget (within its confides) should depend on market opportunity
Flexible: Each budget should possess the ability to adapt based on unforeseen variables
Budget estimates are based on two main factors; experience and projected goals. When determining an initial budget, roofing companies will want to work backward. Start with the end goal, which is likely a certain cost per acquisition (CPA), which could be based on a percentage of a sales conversion. By crunching the numbers, you can determine precisely what the cost of a lead from Google Ads should be for one of your roofing advertising campaigns. The more campaigns you run, the more data you will collect that can instruct and inform subsequent campaigns in the future.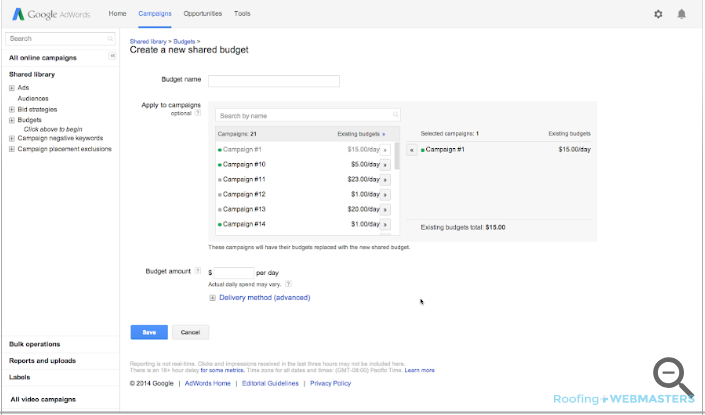 Measurement
Google Ads cannot be a guessing game for roofers. Instead, companies must rely on measurement tools, many of which exist free of charge, to help measure the performance of respective ad campaigns. From the always popular Google Analytics to Wordstream's Google Ads Performance Grader, there are several routes roofing contractors can go to measure and analyze the output of their campaign data. Monitoring campaigns is imperative not only to their short-term success but also to their long-term value as part of a larger database of historical data. Some metrics every roofer should look for on a PPC measurement include:
Click-Through Rate: Percentage of users who click on the ad
Conversion Rate: Percentage of users who complete a defined call to action
Quality Score: Google's rating of the value of your campaign as it pertains to ad quality and keyword relevance
Measurements help roofing contractors adjust based on real-time information. Adjustments can positively influence ROI for advertisers and help them earn more revenue. A roofer's responsibility does not end after the campaign is launched. Instead, successful campaigns necessitate continuous adjustments. Measurements can be both quantitative and qualitative in the case of Google Ads. Quality score is an example of a qualitative measurement, while Click-Through Rate is an example of quantitative measurement. Both variations should be equally analyzed.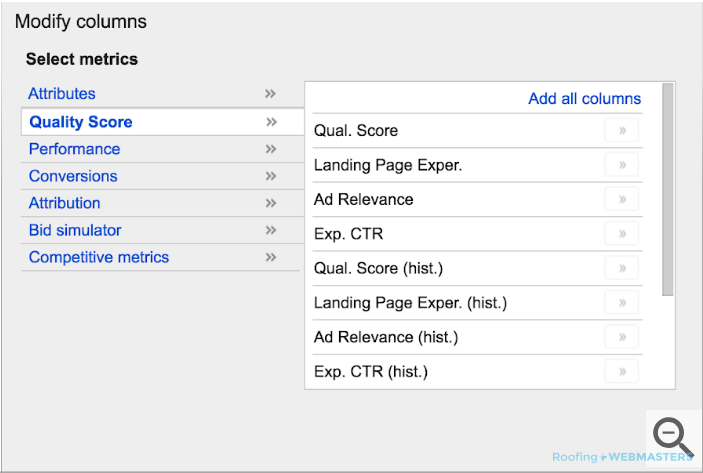 Research
Before one can expect to generate ROI from PPC advertising, extensive research must be conducted to consider the audience and market opportunity. Too often, roofing companies rush through ad campaigns looking for immediate results. Of course, PPC is nationally renowned for its accelerated sales process, but it is only effective if the necessary research is performed beforehand. For instance, roofing contractors must know which keywords to bid on, which demographics and geolocations to target, and which landing pages will be most effective in converting those targeted searchers into customers. Before launching a campaign, roofers should research:
Competition: How competitive certain industry keywords are, and how many ads are fighting for the same ones
Demand / Supply: The number of people needing roofing services at a given time in a specific location, versus the number of companies that can supply them
Location: As referenced above, the geographic locations of potential consumers along with the supply and demand within the area
Season: The time of year — during hail season, for example, there will be greater opportunity for hail storm PPC
Google's Keyword Planner aids much of a campaign manager's research needs for Google Ads campaigns. But other tools can also help identify high opportunity terms in which roofing contractors should target in their respective campaigns. Some of the tools that come to mind are SEMRush, SpyFu, and MOZ. These tools are not free of charge like Keyword Planner is, but they do provide extensive breakdowns of keywords and their relative cost and opportunity in the context of Google advertising. You can be almost certain that your main competitors are utilizing one or more of these tools as they attempt to secure the top ad space on Google for related search terms. Remember, Google chooses ads based on relative competition.