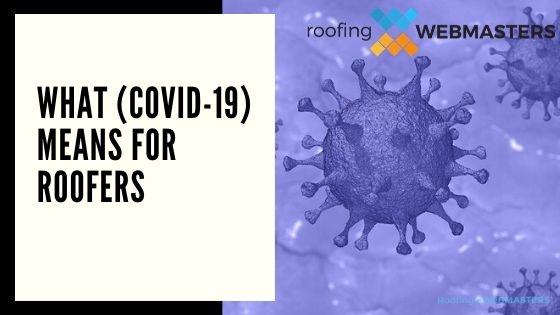 As a roofer, you've probably heard of the coronavirus (COVID-19) by now. If not, you should turn on the radio or local news. 
The coronavirus is a global pandemic that is currently spreading through the U.S. and there is uncertainty as to when the virus will slow down.
Global stock markets have crashed and businesses (like local roofing companies) will be impacted in some capacity.
As a roofing SEO agency that works with hundreds of roofers throughout the U.S. we are tuned into how this will impact lead generation, and web traffic.
So what does this mean for you as a roofing contractor?
What You Should Avoid
Don't Make Business Decisions Driven by Panic
Many of the worst business decisions are made in times of panic. You are not thinking rationally, and you are no longer thinking long-term. Human nature might cause some roofers to shut down their business entirely, but that only opens the doors for competitors to steal your customers, and not just temporarily, but forever.
Don't Stop Marketing Your Roofing Services Online
Now is actually the worst time to end your digital marketing campaign since other forms of roofer marketing will be nonexistent for a minimum of several months. The only way consumers will look to find roofers during this crisis is through online channels like Google search, Google My Business, or other business directories.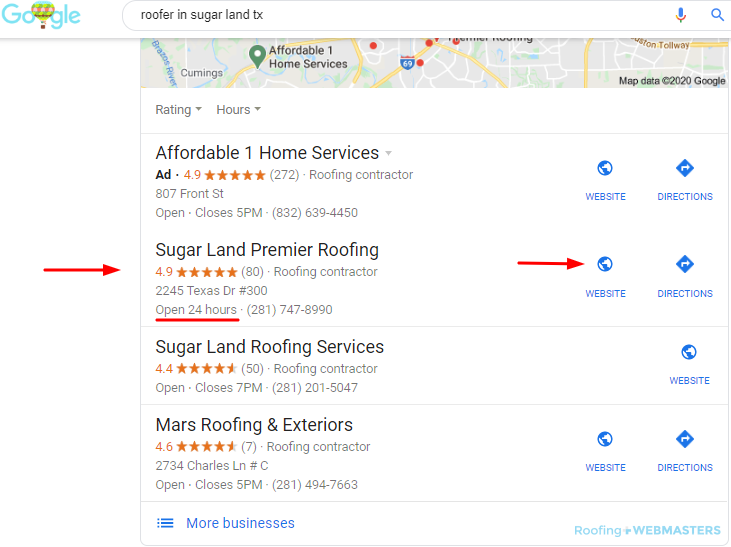 How To Take Action
Accept That Door Knocking is Suspended Indefinitely
Roofers who rely on door-to-door sales must accept that that approach won't work for the foreseeable future. The U.S. population has been advised to avoid unnecessary interactions. As a door-to-door salesman… even if you just leave your promotional flyer, people aren't going to want to touch it. All your promotional efforts must transition to a digital format that people can access online.
Will Homeowners Want to See Roofers in Person, Even on a Job?
From what we've witnessed so far, there is still a demand for roofing services throughout many parts of the country. As long as prearrangement is made online, and over the phone, and your roofing company has assured the public that you are exercising the most stringent safety policies, there is very likely to be ongoing business opportunities for roofers. You won't have to have much personal interaction with the homeowner if you can go over the details over the phone.
Double Down on Online Marketing
During times of crisis, businesses that double down can come away ahead of the curve. Some roofing companies will shut down out of instinct, and others will pull all of their digital marketing resources for preservation. While this is understandable and unfortunate it also presents a growing opportunity for roofers willing to be more aggressive with lead generation in uncertain times. Let's consider:
Local SEO
While some roofers shut down their business, and others stop taking jobs, the roofers who stay consistent or double down will begin to accumulate more reviews on their Google My Business profile. Not only can that help boost your ranking within the Local Map Pack for short-term lead generation, but it will also give you a long-term advantage which is the most profitable over time.

Update: Google has temporarily suspended GMB review functions to protect local businesses. We'll be listening intently to releases from the tech giant about when reviews will continue. In the meantime, now is the perfect time to craft your review collection plan for when they resume.
Organic SEO
Google's algorithm has gotten more intelligent each month for the past several years. A website that is not actively conducting business will not continue to outrank those who are. Furthermore, websites that stop pursuing optimization will eventually die out on organic search. That creates an opportunity for local roofers to jump up by default, which we have not seen in quite a while.
Pay Per Click
While some businesses pull paid ads from Google, others can capitalize by buying cheaper clicks as the cost per click is expected to drop. While we haven't seen it drop yet, there is a growing expectation that it will. That means roofers can buy clicks for valuable keywords at a fraction of the price they would've had to spend just a month ago. That's an opportunity. 
Ease The Concerns of Your Customers
There's no question that the uneasiness of the times will extend to your customers who are concerned about the health of their families and of themselves. That's why it is critical to demonstrate and promote your safety measures and to avoid excessive physical interactions. If customers know you are taking this seriously, they are more likely to continue with your services.
Communication
The first thing to communicate is your awareness of the COVID-19 outbreak followed by outlining the measures you've taken to increase safety and decrease risk. One way to highlight this is through a website notice that appears on your homepage. This way, both current and prospective customers will feel more comfortable using your services.
Demonstration
Use the recommendations of certified health professionals to perform your services in the safest way possible. If homeowners see that you are taking the risks seriously, they are more likely to feel comfortable with your services and more likely to leave you a positive review in this unprecedented scenario.
Precaution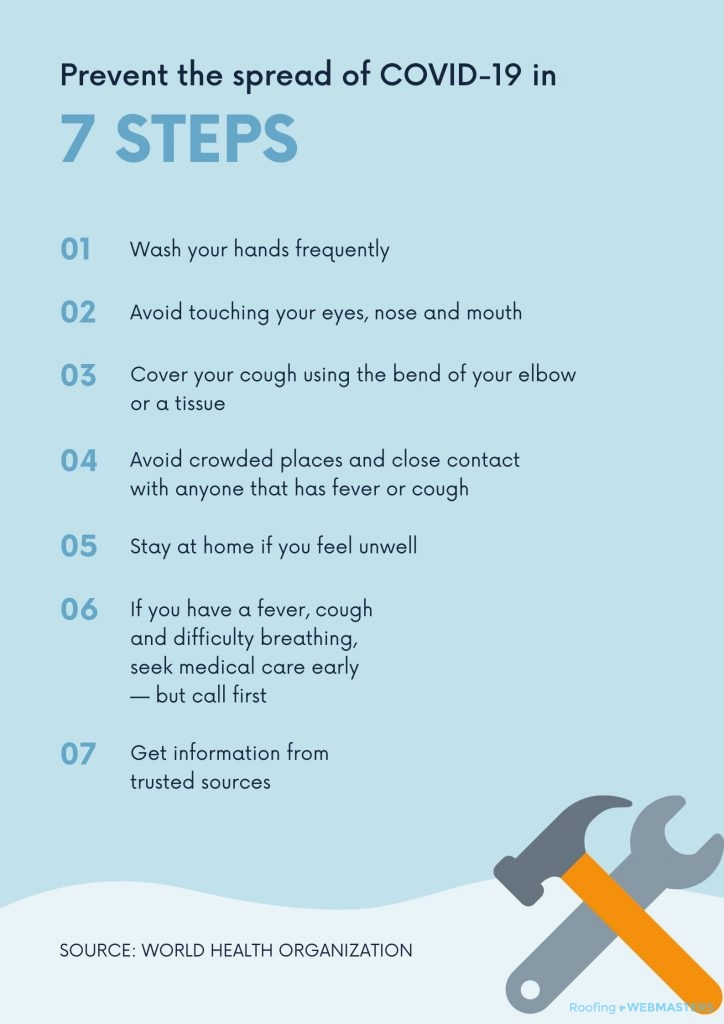 Answer The Question "Is Roofing an Essential Business?"
There is some confusion about whether roofing is designated as an essential business — meaning one that can remain active during the coronavirus shelter in place mandates. The NRCA has drafted a letter to the White House urging them to designate roofing as an essential business. The letter is also being circulated to State governments on behalf of local NRCA affiliates who have been given permission to distribute it.
Extreme Weather
It's hardly a stretch to consider roofing essential in the event of extreme weather conditions, which are expected to increase in the coming months. People can't possibly live a functional life if their roofing system is decimated by hail, winds, and tornado debris. It would make perfect sense for roofers to be considered essential, particularly during these months.
Natural Disasters
Aside from extreme inclement weather conditions, there is a step above that which can devastate communities. Natural disasters like earthquakes, tornadoes, hurricanes, and other unforeseen disasters can displace people from their homes. It would be a real struggle for homeowners to function without the help of professional roofing contractors who they rely upon under these circumstances.
The Bottom Line for Roofers During COVID-19 Outbreak
Everyone is stressing during these uncertain economic times, and there is a level acceptance that we all must arrive at. Business doesn't have to end for roofers, but it does have to be altered to fit our communities in times of need. There's no question that some roofing contractors will capitalize by making smart adjustments and investments going forward.
Use This as an Opportunity
Now is the time to show you are a superior roofing company and market yourself in that way. If you are able to meet customers' needs in times of crisis, you are making an everlasting imprint on their psyche and consumer behavior. There's no better way to ensure customer loyalty than to prove your worth during tough times.
Protect Your Staff & Customers
But most importantly, you should value the safety of your staff members and exercise every precaution to ensure the safety of your customers. By transitioning more of the communication aspects of your business to an online, digital format, you can not only do your part as a citizen but also set the pace for roofing companies who will come out of this crisis on top of the pack.
Contact Roofing Webmasters
Just as it is your duty to help your customers through the COVID-19 outbreak, it is ours at Roofing Webmasters to help roofing contractors excel. Since door knocking will be eliminated as a marketing option for a significant time, it is the responsibility of digital marketing agencies like ours to provide affordable SEO services that can keep your business afloat. Give us a call at (800) 353-5758.