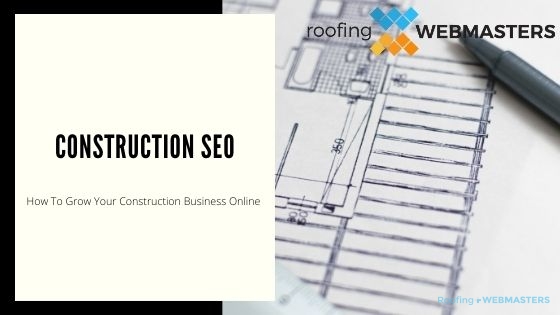 Roofing and construction often go together, and contractors that offer both services want to rank online for as many keywords as possible. So when you look up different roofing companies in your area, you'll see that many of them have "construction" as part of their brand name. Ranking for construction keywords is attainable with the correct SEO strategy.
What is Construction SEO?
Construction SEO is the process of ranking a construction company on search engine results. Rankings may include a company website, Google My Business listing, or other digital platforms (i.e., social media profile).
SEO Basics for Construction Companies
Ranking online starts with the basics. Every company needs a website, Google My Business listing, and NAP citations to establish itself on Google. In 2021, creating a website is easier than it's ever been. Additionally, Google My Business is free, as are most of the directories to which you can submit your NAP information (name, address, phone number).
Construction Company Websites
Creating a company website is the first step to SEO success in 2021. You can hire a web design agency to make your website, or you can create one manually. At Roofing Webmasters, we recommend hiring a professional to give yourself the best chance of ranking on Google. In addition, custom websites differentiate your site from others and provide search engines better reasons to favor your domain.
Domain Name
Choosing a domain name is an integral part of website success. If you already have a domain name, you have a better chance of ranking quickly. If you need to buy a brand new domain, it may take six months for your website to rank on search engine results. Try to choose a domain name that includes some variation of your brand name, industry, and location.
Content Management System
WordPress and Duda represent the best CMS options for construction websites. WordPress, in particular, is ideal for SEO purposes because it allows web admins to edit content, add images, and place internal links with ease. Furthermore, WordPress supports various plugins that can enhance your website performance and foster a superior user experience.
Google My Business Listing
Any company with a verifiable address can register for a Google My Business listing. You can verify through postcard verification and immediately appear on Google Maps and the Google Map 3-Pack. GMB listings are free of charge and are a great way to get your brand out in the public eye without investing any money. In addition, you can rank your GMB listing faster than your website, depending on your region and relative competition.
Local SEO
Google My Business rankings are based on the local algorithm, which uses relevance, prominence, and proximity to determine rankings. You cannot influence proximity other than to move to the best possible business location. Conversely, you can control both relevance and prominence by optimizing your listing, adding photos, and generating positive customer feedback.
Google Reviews
The best way to influence your listing's prominence is to get as many reviews as possible. You can use a software tool like DataPins to automate review requests through SMS and email. As your listing gains more reviews, you should notice an increase in rankings for various local keyword terms. For example, if you've correctly listed your phone number and contact information, you can expect an increase in leads from Google My Business.
NAP Citations
NAP citations help establish your business information online. First, of course, you'll want to submit your info to as many directories as possible or correct your information if you've recently updated your address, phone number, or company name. You can use a service like Yext to submit listings in bulk, or you can rely on an SEO agency to handle all that work on your behalf. While NAP citations may seem modest, they can have a significant impact on rankings.
Top Directories
Every construction company should get listed in top directories like Google My Business and Yelp to establish itself as a real business. While no single listing will make or break your SEO status, a combination of listings will work together to build authority. Ensuring placements on the most well-known directories is a great way to start your online presence on the right track.
Niche Directories
In addition to the main directories, construction businesses should also submit listings to niche directories in the contractor space. For example, consider platforms like Angi, HomeAdvisor, and NextDoor, focusing primarily on contractors, including construction workers. You can even target more narrowly defined directories such as The Good Contractor List to boost your topical relevance online.
Advanced SEO Concepts for Construction Companies
SEO for contractors is one of the least expensive ways to grow your business. However, to increase traffic, you'll have to go beyond the basics—Advanced SEO concepts like technical SEO, content marketing, and link building separate top-ranking websites from competitors. You can implement next-level SEO strategies by adhering to the following methods.
Technical SEO
Technical SEO is the most complex aspect of search optimization but one that can make or break your online success. Technical characteristics of optimization include speeding up your website's loading time, providing a good user experience, and ensuring that all your pages get indexed on search. Professional SEO experts use tools like Screaming Frog and Google Search Console to diagnose technical SEO problems.
Site Speed
In 2021, users expect websites to load instantly. Factors that influence site speed include your hosting provider, server, web images, and themes. For example, you can install a plugin like WPRocket to optimize your website speed on WordPress and ensure that users don't leave in frustration. In addition, Google Pagespeed Insights offers a free speed test, as do other platforms like GTMetrix and Pingdom.
User Experience
Google's Page Experience Update placed a premium on user experience. You can enhance your website's UX by optimizing for mobile devices and ensuring clean and straightforward navigation. Users should view and navigate your website across all device types, including mobile, desktop, and tablet. Other UX factors include on-site buttons, forms, and any place the user interacts.
Indexing
One of the most underreported SEO concepts is indexing. Your pages must get appropriately indexed on Google and lead users to the correct page. Technical SEO audits can identify indexing problems such as pages mistakenly tagged with NoIndex or pages that lead to 404 errors or faulty 301 redirects. Indexing issues can also demonstrate keyword cannibalization, which means that two or more of your pages target the exact keywords.
Content Marketing for Construction Businesses
Investing in well-written content is one of the best ways to improve SEO in 2021. If you can properly market your content on Google, you can rank for various keywords and share blog posts on social media. Creating a good content marketing strategy starts with keyword research to map your keywords and avoid keyword cannibalization. From there, you want to distribute words by service pages and blog posts. Nine times out of 10, websites with the best content outperform competitors.
Keyword Research
Identifying construction SEO keywords are critical to content marketing. First, you want to rank for each priority keyword without overlapping terms on multiple pages. For example, you can use tools like MOZ or SEMRush to research keyword volumes in your industry and then write service pages or blog posts about each term. Second, you want to group words by topic so that one page can rank for multiple construction terms. Finally, strategically placed internal links can strengthen your overall website and help Google understand how content relates to each other.
Service Pages
Each primary service should have a page on your website. Match keywords from your research to appropriate service pages to reach as many potential prospects as possible. Service pages should have transactional intent meaning they encourage the reader to take action and book your services. If you find that one of your services does not have keyword volume, you must determine whether it's worth a page. In most cases, you should still include the page on your website.
Blog Posts
Blog posts allow construction websites to rank for terms that fall outside the scope of service pages. For example, you might want to rank for a keyword like gutter cleaning tips and tricks, which signals informational intent rather than transactional intent. While you might not convert a customer directly from a blog post, you will get more traffic to your website and expose your brand to a broader audience. Additionally, blog posts are great for social media sharing and link building.
Link Building
Link building for construction companies can be a controversial SEO practice. Google's guidelines prohibit many forms of link building, including link exchanges, link payments, and any link scheme. Your best chance to build links naturally is to produce great blog posts and share them on social media. If your posts answer common questions about your industry, there's a good chance that other websites will link to them as a reference. As you gain more links from quality websites, your rankings will improve.
Additional Construction SEO Factors
SEO is constantly evolving because Google's algorithm grows smarter each day. To maintain top rankings, you will have to stay on top of the latest trends and adjust strategies as needed. Despite potential volatility, organic search rankings remain the most profitable method of digital marketing for construction companies. Let's examine some additional SEO factors for construction businesses:
Keywords for Construction Management
| | |
| --- | --- |
| Keyword | Volume |
| construction management | 21,178 |
| construction management services | 229 |
| construction management companies | 508 |
| construction project management | 1,018 |
| construction service management | 18 |
Online Marketing for Construction Companies
Other forms of online marketing can indirectly affect SEO. For example, running Facebook Ads may increase traffic to your website and alter behavioral metrics, impacting rankings. Additionally, if more people search your brand name on Google, you may see increases in rankings across the board.
Google Analytics for Construction Websites
Setting up Google Analytics is a great way to monitor SEO performance. You can evaluate organic traffics by page, device, location, and more. By benchmarking SEO data, you can identify problems as they arise and quickly correct problems. You can also set up Google Search Console to evaluate search queries and more.