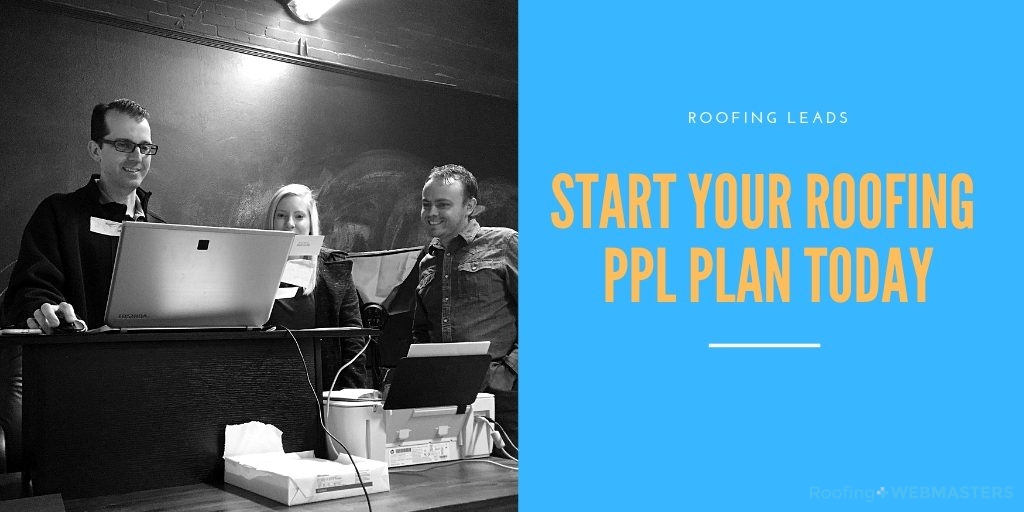 What Are Roofing Leads?
Roofing leads are potential customers who show interest in your service, typically by submitting contact information through your website or another online platform. Some contractors purchase potential customers from 3rd party services, while others establish a branded online presence to acquire exclusive customers. Lead generation is why 99.9% of roofers create an online presence in the first place.
How do I get more roofing leads?
Getting more roofing leads starts with establishing a web presence through SEO and website design. You should also ensure your business appears on Google's Local Map Pack so that nearby consumers can find your listing when they perform a local search. Your website also needs a clear call to action (CTA).
What is an exclusive roofing lead?
An exclusive roofing lead is intended specifically for your company rather than being a general inquiry into roofing services. Many lead sellers offer shared leads which forces multiple contractors to compete against each other for the same customer. Exclusive leads avoid this problem and convert at a much higher rate.
How do I promote my roofing company online?
You can promote your roofing company online with SEO, website design, Google My Business, and content marketing. The more your web presence grows, the more likely you are to generate high quality leads consistently. Each page of your website should have a clear call to action to convert traffic into leads.
Roofing Leads Cost
A roof lead may cost anywhere between $15 and $150, depending on its quality, location, and projected lifetime value. A shared lead, for instance, has less value and therefore presents a more affordable roofing lead. Conversely, exclusive leads hold more value and garner higher prices. Of course, companies who establish an online presence attract exclusive leads without dealing with a mediator or 3rd party.
Types of Leads for Roofers
Some commercial roofing contractors are looking for leads that fit their target market, while other contractors are looking for leads needing specific types of roofing services. Roofing Webmasters tailor-fits our SEO strategy to target the same consumer base you envision for your client. Because we have an in-house design and content team, we can take your information and immediately transfer it to a high-performance website that will appeal to your target audience. Some of the most popular lead types include:
Leads for Metal Roofs
Storm Damage Leads
Since we serve you as our customer, the choice is yours to which consumer you'd like to target. We can help guide you towards the most profitable avenues, but ultimately the final decision is yours. And again, it's no risk. Since you pay only after for leads, you'll never pay us if nobody seeks out your services.
We are very confident in our work, however, making that case all but an impossibility. Still, the security on your end is invaluable and can be the boost you need for your local roofing company to go forward with marketing. We look forward to working with you and attracting the types of leads that you hope to generate.
Free PDF Guide
Exclusive Roofing Leads
Exclusive leads are prospects who contact your roofing company only. Since they are more likely to convert, they generally cost more to acquire from 3rd parties. However, a solid online presence helps roofers produce exclusive leads for free. In addition, exclusive prospects are more likely to become regular customers after their initial service. Finally, the exclusive model contrasts the shared model since shared leads give their contact information to multiple roofing companies in the same area.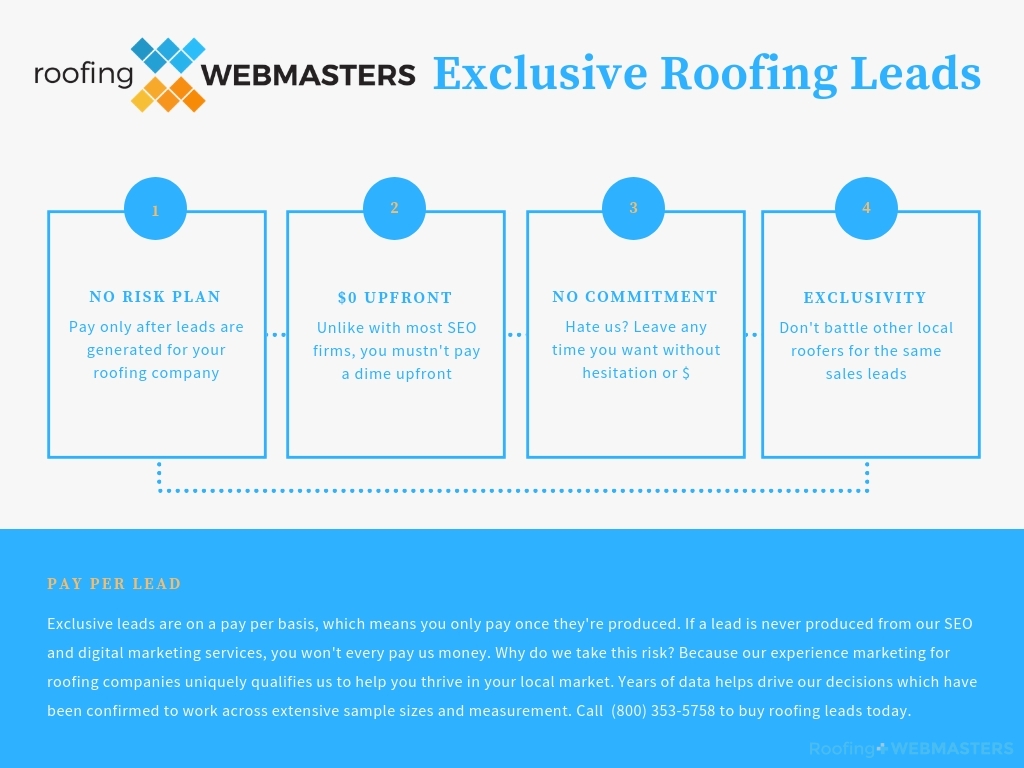 Drone Leads
Roofing Webmasters' understands the importance of drone leads, which utilize roofing software for precise estimates. Drone cameras capture rooftops' imagery and record slope, pitch, square footage, and other features with software. As a result, roofing contractors can now spot tree problems, foreign objects, faulty rooflines, and even moisture infiltration.
Lead Generation Basics
Without leads, roofing companies can neither thrive nor survive. Leads are the lifeblood of every roofing contractor's business; generating them is the most important marketing goal. Too often, contractors lose track of the why and focus too much on the what. Take a look below:
What Roofing Contractors Want
Custom Website Design
Google My Business / Maps Listing
Quality Content
Search Engine Optimization
Why Roofing Contractors Want These Things
Improved Business
Lead Generation
Revenue Growth
Sales Conversions
Can You Guarantee Leads?
Some companies allegedly provide guaranteed roofing leads, but the fine print reveals its apparent limitations. Lead brokers cannot force a roofing customer to go through with their service, nor should they try. While the concept of guaranteed leads is misleading, some leads are more reliable than others. For example, leads coming from your branded web presence (i.e., SEO, website, GMB) are about as guaranteed as it gets.
How Roofers Can Get Free Leads
Contractors can get free leads once establishing a web presence. Ranking on Google search is a long-term investment because it can return long after you stop paying for it. If your business shows up on Google's Local Map Pack along with its search results, you will get free leads. Brand new roofers should not expect to show up on search immediately since Google values authority, trust, and reputation.
How To Get Leads on Facebook
Roofing companies can generate leads on Facebook using Facebook Ads or Facebook Marketing. Unfortunately, since Facebook's algorithm change back in 2018, getting organic clicks is rare. However, investing in a Facebook Advertising strategy can produce consistent, high-quality leads for roofing companies in 2021. 
Canvassing for Leads in 2021
Canvassing for leads still works with the proper strategy. Contractors can even find customers through community platforms like NextDoor, which often establish more immediate trust in a particular roofing company than a traditional PPC advertisement, for example. In addition, many companies find it helpful to incorporate mobile software into their canvassing efforts.
National Lead Generation Company for Roofers
We serve the entire United States of America. That means everything from lead generation in Texas to California is available with our services. We have every team member in-house, diversely skilled to execute every aspect of your internet marketing campaign. At Roofing Webmasters, we offer pay-per-lead services for companies throughout the U.S. You can buy roofing contractor leads today.
Roofing Webmasters has been in thriving since 2013. Eight years later, we're still supporting businesses throughout the country with their digital marketing needs. We have so much confidence in our ability to provide excellent marketing services and offer payment plans on a per-lead basis. If our services fail, you pay nothing.